Fears of an "inevitable" global recession prompted sharp swings on currency markets and falls on stock exchanges despite talk of new government aid to shore up confidence in the financial system Wednesday.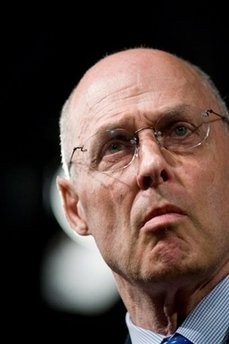 US Secretary of the Treasury Henry Paulson at a press conference in Washington, DC. In a bid to help troubled money market mutual funds, the Fed has said it would make available up to US$540 billion for purchases of highly rated short-term debt.(AFP/Getty Images/File/Brendan Smialowski)
The British pound fell to a five-year low against the dollar after Bank of England governor Mervyn King indicated Britain was "likely" entering a recession, while the euro and other high-yield currencies saw sharp falls.
On the stock markets, Japan's Nikkei share index closed down 6.79 percent after Wall Street's Dow Jones index sunk 2.50 percent Tuesday while Europe's major markets were all down in early trading, including 1.96 percent in London.
Europe faced "inevitable" recession which would begin "almost in synch with the US," said a forecast by Swiss bank UBS, with a "dramatic" downturn for countries that have overvalued real estate markets like Spain and Britain.
King reached a similarly gloomy assessment in a speech in northern England where he said: "It now seems likely that the UK economy is entering a recession."
Crucial data is expected to show on Friday that the British economy shrank in the third quarter after zero growth in the second. The technical definition of a recession is two straight quarters of negative economic growth.
King added that the financial crisis had squeezed the amount of money banks would lend to consumers and companies, at a time when high energy and food prices were also reducing disposable incomes.
The prospect of a sharp economic slowdown raises the chances that the British central bank will again cut interest rates, making sterling a less attractive investment than the euro or the dollar.
And an expectation of similar rate cuts in the 15-nation eurozone to spur economic growth forced the euro towards a near two-year low against the dollar.
There were also more signs of trouble in the emerging markets , with South Africa's rand falling to a six-year low against the dollar.
"The escalation of the crisis has revealed or exacerbated existing vulnerabilities (in emerging markets) such as current account deficits that were ignored when times were good -- ie., capital was plentiful," said the New York-based RGE think-tank in its latest newsletter.
Indian Prime Minister Manmohan Singh called for developing nations to play a role in ending the turmoil, which was triggered by huge losses by global banking giants in mortgage-related securities and led to a collapse in market confidence.
"Developing countries like India are also affected by the crisis, and have to be part of the solution," he said.
The central Reserve Bank of India cut its lending rate for the first time since 2004 earlier this week, and Singh has conceded that the nation will face a "temporary slowdown" from "the ripple effects" of the crisis.
The turbulence on the stock and currency markets came despite new attempts by the US Federal Reserve to restore confidence to the fragile financial system.
In a bid to help troubled money market mutual funds, the Fed said it would make available up to 540 billion dollars for purchases of highly rated short-term debt.
The market for these assets, which in normal times are considered safe investments offering modest returns, has frozen up in recent weeks as the global financial crisis worsened.
Disruption in the market for commercial paper threatens companies, which issue the securities to raise cash for short-term needs such as paying salaries.
In Argentina, President Cristina Kirchner announced plans to nationalise 10 private pension funds holding 30 billion dollars in assets.
Chinese President Hu Jintao discussed the turmoil by telephone with his US counterpart George W. Bush and promised Beijing would work with the international community to maintain the stability of the global economy and financial markets.
Hu said he hoped US measures to curb the impact "would take effect as soon as possible, restore investor confidence and prevent further expansion of the crisis."