Indonesian rescuers pulled corpses from mud Thursday as they hunted for victims of landslides and floods on Java island that have left more than 130 people feared dead, officials said.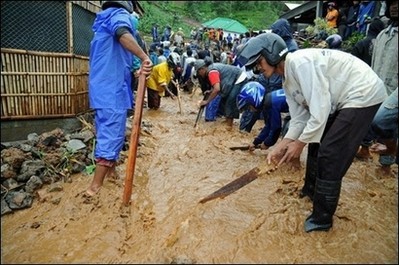 Indonesian soldiers and volunteers search for missing people following a landslide in Tawangmangu on Java island (Photo: AFP)
Landslides hit two districts in Central Java in the early hours of Wednesday morning, engulfing entire homes and blocking key access roads, while floods swelling in East Java swept away a bridge, leaving an estimated 50 missing.

"This is still an estimate -- there were many people passing the bridge at the time according to witnesses," a policeman at Madiun district police station, Ilham, told AFP Thursday.

"The search is limited to along the river's banks. But no victims have been found so far," he said, adding that strong currents were hindering the search.

The Kompas newspaper reported that the 50-metre (-yard) long bridge was built in the Dutch colonial period.

In Central Java, hundreds of troops, police, local officials and residents used their hands, hoes and shovels to search for bodies, officials said.

In worst-hit Karanganyar district, the head of the local disaster management centre Heru Aji Pratomo said two more bodies were pulled from the muddy wreckage of one landslide, bringing the number of bodies recovered to 38.

Twenty-eight people were still missing in the district, he told AFP.

Pratomo said rescuers were "using four water pumps and plastic pipes to disperse mud as thick as five meters (16 feet) covering the bodies."

An access road was cleared to allow heavy machinery through, but the equipment had become stuck about three kilometers (two miles) away, he said.

"The condition of the road heading to the site is too dangerous for them. The road is too steep and winding... We really need heavy machinery to pull out the buried bodies," he said.

An AFP correspondent on the scene at the district's Tawangmangu area said about 130 members of the elite army force Kopassus arrived Thursday to help the search. The weather had cleared, he said.

A witness in Tawangmangu said that the landslide had felt like an earthquake.

"Suddenly I felt my house shaking, and I thought it was an earthquake. When I got outside, I saw that the houses next to mine were already covered by earth," resident Siswo told AFP.

Twelve of his neighbors' homes were hit, he added.

In adjacent Wonogiri district, the head of the disaster management centre Sri Mubadi told AFP that two more bodies were recovered here, bringing the toll to six, with 11 missing, he said.

Only manual equipment was also being used here, he added.

In Jakarta, health ministry official Rustam Pakaya said by text message that five tons of instant meals and biscuits, 10 tons of baby food and several boats had been sent to the disaster zones.

He also said about 2,000 people affected by the East Java floods were sheltering in official buildings, mosques or churches.

Indonesia has been repeatedly afflicted by deadly floods and landslides in recent years, with activists warning that logging and a failure to reforest denuded land in the world's fourth most populous country are often to blame.

But in Central Java, officials insisted deforestation was not to blame.

"The hills are unstable and vulnerable to landslides anyway," said Wonogiri district's Mubadi.

Officials have said they expect the recovery of all landslide victims to take at least another two days.