"We came here principally to underscore the importance to bring to a close the formation of the government," US Secretary of State Condoleezza Rice said in a joint press conference with British Foreign Secretary Jack Straw.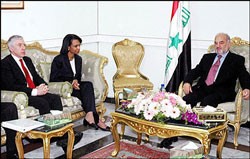 Foreign Secretary Jack Straw (L) and US Secretary of State Condoleezza Rice (C) meet Iraqi Prime Minister Ibrahim Jaafari in Baghdad (AFP Photo)
"It is now crucial that they move forward quickly," said Straw. "The political vacuum ... is not assisting the security situation."
Rice and Straw flew in on Sunday for "very direct" discussions with Iraqi leaders over the deadlock on forming a new government more than three months after general elections.
"You cannot have a circumstance where there is a political vacuum in a country like this that faces so much threat of violence," said Rice.
For his part, Straw was blunt as to why their countries had a say in the pace of the negotiations in Iraq.
"The Americans have lost over 2,000 troops here, we have lost over a 100, there are 140,000 overseas troops here helping to keep the peace," said the foreign secretary.
"We do have a right to say, that we have got to be able to deal with Mr A, B or C, we can't deal with Mr Nobody," he said.
"The United States and the United Kingdom are the people who liberated this country," Straw said.
"It's very important now that the Iraqis make progress, and I think we are entitled to say that the loss of American and British and coalition lives -- and a huge amount of money has been spent here -- is itself a reason for the Iraqi leaders to make swift progress."
The visit comes as splits appear in the dominant conservative Shiite alliance over its candidate to lead the new government, Ibrahim Jaafari, the incumbent prime minister.
The latest Shiite leader to speak out was Jalal Al-Deen Al-Saghir of the powerful Supreme Council of the Islamic Revolution in Iraq (SCIRI), who told AFP on Sunday it was time Jaafari gave up on his ambitions to keep the job.
"I appeal to Jaafari to renounce his candidacy as the country is in a crisis and his candidacy has not been unanimously accepted by the Shiite alliance," he said.
Media reports over the past week have suggested a degree of frustration on the part of the US government by Jaafari's leadership and contacts with Shiite leaders for him to step down.
The US embassy in Baghdad has denied those reports.
Polls show two-thirds of Americans opposed to his handling of Iraq, where more than 2,300 US troops have died, and the war was likely to be a key issue in congressional elections in November.
The toll of the war was emphasized by US military announcements of the deaths of several American servicemen, including two helicopter pilots whose bodies were recovered Monday after being shot down two days earlier.
Source: AFP