US Secretary of State Condoleezza Rice arrived in New Delhi Wednesday for a solidarity visit after the Mumbai attacks and to reduce tensions between India and nuclear rival Pakistan.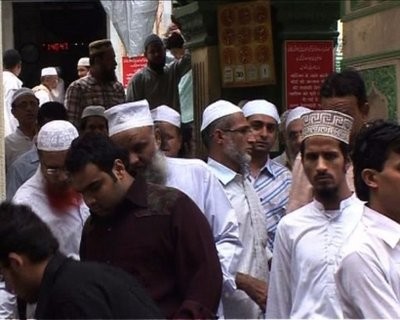 Tensions between Mumbai's Hindu and muslim communities are mounting following the devastating attacks on the city that left 188 people dead.(AFPTV)
Ties between the nuclear-armed South Asian rivals have become strained in the wake of last week's devastating attacks by Islamist militants which left 188 people dead.
India says the only gunman captured has confirmed under interrogation that all the militants were from Pakistan and received their training there.
Rice has echoed calls for Pakistan, which denies any complicity in the attacks, to "cooperate fully" with the Indian investigation.
"I want to consult with the Indian government on what we can do to help," Rice told reporters in Brussels before leaving for India.
"I am going to, of course, express solidarity with the Indian people. This was a horrible attack ," she said.
The United States is particularly concerned about any military stand-off that might see Pakistan move troops from its western border with Afghanistan -- a crucial battleground in the US "war on terror".
A senior State Department official said Rice would pressure the two US allies -- who have fought three wars since their 1947 independence from British rule -- to cooperate in wiping out terrorism.
"The fact that the US is involved with both sides in identifying and going after terrorist groups can help them to cooperate," the official said.
Suspicion has fallen on Lashkar-e-Taiba, a group fighting Indian control of disputed Kashmir. The group was behind a December 2001 attack on the Indian parliament that brought India and Pakistan to the brink of another war.
US Director of National Intelligence Mike McConnell on Tuesday said the Pakistan-based group was the focus of investigations.
"The same group that we believe is responsible for Mumbai had a similar attack in 2006 attack on a train and killed a similar number of people," he said. "Go back to 2001 and it was an attack on the parliament."
I ndia called in the Pakistani ambassador earlier this week and demanded Pakistan arrest and extradite a list of 20 terror suspects, including the founder of Lashkar-e-Taiba, Hafiz Saeed.
Other names on the list were Maulana Masood Azhar, chief of the Jaish-e-Mohammed rebel group, and Dawood Ibrahim, wanted in India on charges of masterminding serial bombings in Mumbai in 1993 that killed around 300 people.
Pakistan has suggested setting up a "joint investigation mechanism" but says it wants concrete proof of India's allegation that all the attackers were Pakistanis.
CNN and other US networks reported that the United States had warned India in October that hotels and business centres in Mumbai would be targeted by attackers coming from the sea.
One US intelligence official had named the Taj Mahal hotel , one of 10 sites hit in the 60-hour siege by gunmen, as a specific target, ABC television said.
It said Indian intelligence officials intercepted a phone call on November 18 to an address in Pakistan used by the head of Lashkar-e-Taiba, revealing a possible attack from the sea.
About 10 gunmen landed in rubber dinghies in Mumbai on Wednesday and wreaked havoc with automatic weapons and hand grenades, in an assault that killed 188 and injured more than 300. The dead included 22 foreign nationals.
McConnell, the top US intelligence official, said he did not see the Mumbai attack as a new form of terrorism.
"If you examine the groups we think are responsible, the philosophical underpinnings are very similar to what Al-Qaeda puts out as their view of how the world should be," he said.
India's security and intelligence agencies have come under intense criticism over their handling of the incident, which has already forced the resignation of interior minister Shivraj Patil.
Pakistan President Asif Ali Zardari, meanwhile, reiterated that his government was innocent of any involvement.
"I think these are stateless actors who have been operating throughout the region. The gunmen, whoever they are, they are all stateless actors who are holding hostage the whole world," Zardari told CNN.
"The state of Pakistan is no way responsible."