Human Rights Watch on Saturday called on the Organization of Islamic Cooperation (OIC) to "immediately" intervene to stop Syria's crackdown on pro-democracy protests.
The New York-based rights group wrote a letter to OIC Secretary General Ekmeleddin Ihsanoglu asking the 57-nation body to protest Syria's actions and send a delegation there to probe possible human rights violations.
"The OIC should issue a clear statement that security forces conducting policing may use lethal force only when strictly necessary to protect life, and that killing peaceful protesters is a serious violation of the OIC charter," HRW said.
"Syria, a member of the OIC since 1970, has for four months now made a mockery of its international obligations with unlawful killings, disappearances, torture, and sieges on whole cities, towns, and villages," said Sarah Leah Whitson, Middle East director at Human Rights Watch.
"The OIC should immediately take action against this member state," she added, calling its inaction "both abhorrent and inexcusable."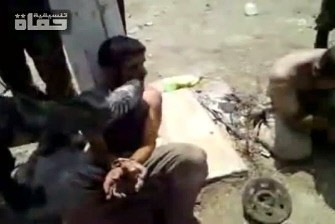 An image grab taken from a video uploaded on YouTube on August 19, 2011 shows a member of the Syrian security forces kicking an arrested man in the face in the central city of Hama during military operations.
The Saudi Arabia-based OIC represents 1.5 billion Muslims and is the world's second largest inter-governmental organization after the United Nations.
According to the group's charter, "member states shall uphold and promote, at the national and international levels, good governance, democracy, human rights and fundamental freedoms, and the rule of law."
Activists said 34 protestors were killed on Friday in Syria, where UN officials say more than 2,000 people have been killed since the eruption of protests in mid-March inspired by the Arab Spring.