Major powers are considering proposals for sanctions on Iran's nuclear ambitions that include penalties against Tehran's Revolutionary Guards as well as the Tehran's state-owned Bank Sepah.
But in a working paper of provisions for a second U.N. Security Council sanctions resolution, seen by Reuters on Thursday, Russia and China raised objections to many of the measures. One key element they agreed to was an arms embargo on any weapons Iran would be allowed to export.
The document was dated March 3 but many of the sticking points have yet to be resolved, said diplomats speaking on condition of anonymity. No date has been set for a vote in the 15-member council, and a draft resolution is not expected until next week at the earliest.
Ambassadors from the five permanent council members -- the United States, Britain, France, Russia and China -- as well as Germany met on Thursday for the third time this week and plan another session on Friday.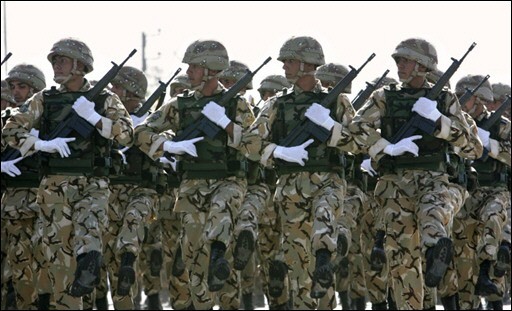 Iranian armed forces are ready to fight any aggressors
"There is no resolution to address yet," Alejandro Wolff, a U.S. ambassador told reporters. "We were just taking stock on where were."
The United States and leading European countries suspect Iran is seeking to build nuclear weapons under the cover of a civilian atomic program. Tehran denies the charge and says its program is for generating electricity only.
The new resolution is a follow-up to one adopted by the Security Council on December 23 that imposed trade sanctions on sensitive nuclear materials and technology and froze assets of key Iranians individuals, groups and businesses. That measure demands Iran suspend uranium enrichment, which can provide fuel for power plants or for bombs, but Tehran refused to comply.
The new proposals under consideration include a mandatory travel ban, financial and trade restrictions and an expanded list of Iranian officials and firms whose assets would be frozen, such as companies controlled by Iran's Revolutionary Guards as well as Iran's state-owned Bank Sepah.
Russia and China voiced reservations about sanctions on the Revolutionary Guards, according to the paper.
The Bush administration has already imposed unilateral sanctions against Iran and in January restricted U.S. companies or citizens doing business with Bank Sepah.
ARMS EMBARGO
The proposals would ban Iranian weapons exports but leave intact Tehran's ability to import. The December resolution had restricted trade in sensitive materials for nuclear weapons and ballistic missiles.
Russia and China did not object to the proposed arms export ban but raised reservations on a related provision that would allow nations to take "cooperative action" to prevent weapons trafficking.
Another proposed provision would would ban new commitments by countries for grants, loans and credits to Iran. Russia and China want this made voluntary.
The two nations also object to a call for international financial institutions to withhold funds from Iran as well as a proposal asking nations to "exercise vigilance and restraint" in providing financial support, including insuring companies trading with Tehran.
Earlier on Thursday, senior foreign ministry officials from the six nations held a conference call that included Nicholas Burns, the U.S. undersecretary of state, who also had separate conversations with his colleagues, U.S. State Department spokesman Sean McCormack said in Washington.
McCormack said Russia was cooperating well -- an indication China's position was more difficult.