Ksenya Sukhinova from Russia was crowned Miss World 2008 after beating 108 other international beauties in a glittering African extravaganza held in South Africa on Saturday.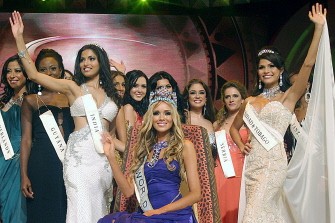 Miss Russia Ksenya Sukhinova (C) crowned 58th Miss World, Miss India Parvathay Omanakuttan (L) First runner up, and Miss Trinidad and Tobago Gabriel Walcott crowned second runner up (AFP Photo)
"And Miss World 2008 is Russia," announced Julia Morley, head of the Miss World committee that organises the event.
The second runner up was Gabriel Walcott of Trinidad and Tobago and the first runner up Parvathay Omanakuttan of India.
The blonde beauty, who declared shortly before her win was announced that being nervous made her "feel stronger", takes over from Zhang Zi Lin of China to become the 58th Miss World.
"I think I can help people and I want to help people and today if I walk away with this crown I will do that," Sukhinova told judges through a translator after being asked why she should be crowned the winner.
Hailing from Nizhnevartovsk in the north west of Siberia, Sukhinova was dressed in a deep purple gown, with a decorative neckline and flowing skirt.
She is a student pursuing a science degree as an engineer of administration from the Tyumen Oil and Gas University.
The prestigious event was broadcast to millions of viewers in 187 countries.
South Africa, who hosted the event for the sixth time, became the country that has held more Miss World pageants than any other.
Beauties from 109 countries were whittled down to 15 semi-finalists with India, Russia, Trinidad and Tobago, Angola and South Africa named the five finalists as the audience willed their favourite to go forward.
South Africa's Tansey Coetzee had her home crowd on their feet screaming their support as her name as a finalist was announced.
Russia won her place in the semi-final in a fast-track competition for the Top Model competition, following in the footsteps of Zhang who also won the spot before taking the Miss World crown last year.