Russian soldiers were still holding key positions inside Georgia on Saturday, a day after Moscow pulled out most of its troops, as the United States and France called for further withdrawals.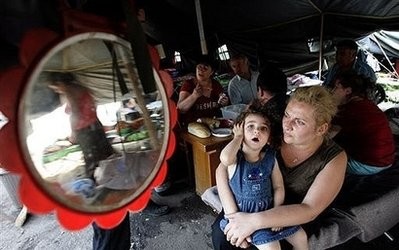 A Georgian woman and her daughter sit near a mirror inside a tent in Orxevi refugee camp in Tbilisi. Russia said Friday it had completed a pullback of troops from Georgia but the Georgian government challenged the claim while the United States and France called for further withdrawal.(AFP/Vano Shlamov)
Two weeks after rolling into the former Soviet republic, several columns of Russian tanks and troops withdrew Friday from deep inside Georgian territory and allowed Georgian police to regain control of the key city of Gori.
But a top general said strategic routes would remain occupied and some 500 "peacekeepers" were to remain in a buffer zone around the Moscow-controlled separatist region of South Ossetia.
"The pullback of Russian troops and units passed without incident and was completed on time" at 7:50 pm (1550 GMT), Defence Minister Anatoly Serdyukov said in a statement released by the Kremlin.
"Thus, the Russian side has fulfilled its obligations" under a ceasefire plan brokered by France, Serdyukov said.
Georgia's interior ministry, however, said Russia continued to occupy areas of the country, with spokesman Shota Utiashvili saying: "It is not true that the withdrawal is complete."
US President George W. Bush and French President Nicolas Sarkozy agreed during a telephone conversation that "Russia is not in compliance and that Russia needs to come into compliance now," a White House spokesman said in Washington.
Bush and Sarkozy, who brokered the ceasefire accord, jointly called on Russia to "continue and complete" its withdrawal from Georgia, a statement from the French presidency said.
British Foreign Secretary David Miliband said he was "deeply concerned" by what he called Russia's failure to live up completely to its pledges on pulling back troops from Georgia, urging Russia to "fully and speedily" take steps to stick by its obligations under a French-brokered ceasefire plan.
Russian troops, sent into Georgia on August 8 to defend South Ossetia against an attack by Georgian troops, rolled northward toward Russia, some flashing victory signs.
Hundreds of soldiers and columns of tanks and trucks could be seen moving north from forward positions into South Ossetia and Abkhazia, another Russian-controlled separatist region.
Despite Russia's pullout, international tensions remained high.
Moscow criticised a NATO naval exercise taking place in the Black Sea, while in New York the United Nations again failed to agree on a resolution on the conflict.
A US-guided missile destroyer was to transit into the Black Sea and deliver aid over the next few days, a Pentagon spokesman said.
The question for Georgians, whose small US-trained army was routed in the Russian onslaught, was whether they would really regain control over their country.
In Moscow, the deputy chief of general staff, Anatoly Nogovitsyn, showed journalists a map detailing what he said would be a "zone of responsibility" for some 500 Russian "peacekeepers."
This included control of a key highway linking the Georgian capital to the Black Sea.
Military posts were to be established outside the port city of Poti and troops would have the right to deploy anywhere on the road between Poti and Senaki, according to the map.
Georgia said Russia's continued military presence in Poti and Senaki was "illegal."
An unknown number of combat troops also remained inside South Ossetia as well as Abkhazia, which broke away from Tbilisi in the 1990s.
In addition, Nogovitsyn said that "if needed we reserve the right to boost these forces."
Western capitals have rallied around Georgian President Mikheil Saakashvili, who is seeking NATO membership for his country.
NATO has condemned Russia's military intervention and in response Russia has frozen cooperation with the Western alliance.
Russia's military took a swipe at NATO after the alliance sent warships to the Black Sea near Georgia for exercises.
"I do not believe that these actions can seriously contribute to the stabilisation of the situation in the region," Nogovitsyn said.
NATO described the exercises, involving US, German, Spanish and Polish vessels, as routine and stressed they were planned before the Georgia conflict erupted.
There was still little clarity about when the bulk of combat troops would quit South Ossetia and Abkhazia.
But Georgia appears increasingly unlikely to recover control of its two separatist regions.
Moscow has given mixed signals over whether it might recognise the separatist governments, a move that would likely exacerbate the worst crises between Russia and the West since the Cold War.
Russia's two houses of parliament are to discuss the issue Monday.
The UN High Commissioner for Refugees (UNHCR) Antonio Guterres arrived in South Ossetia on Friday to assess the humanitarian situation.
The UNHCR believes more than 25,000 people are in need of aid in central and western Georgia.