Russia is celebrating on Sunday the 20th anniversary of the Soviet troops' withdrawal from Afghanistan, reported RIA-Novosti.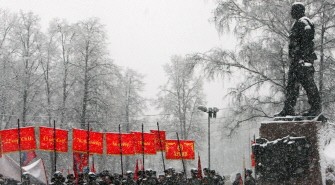 Russian veterans of Afghan war hold posters during their rally near a monumet to Soviet warrior-internationalists during a rally on Polonnaya hill in Moscow on February 15, 2009. (AFP Photo)
On February 15, 1989, the last Soviet troops left Afghanistan, nine years after they swept into the country.
Ceremonies will be held all across Russia to lay flowers at the tombs of Soviet soldiers and officers who died in the Afghan war.
The war in Afghanistan was a nine-year conflict involving Soviet forces supporting the Marxist PDPA (People's Democratic Party of Afghanistan) government against the largely Islamic fundamentalist Mujahideen insurgents.
It began on December 25, 1979 and over 14,000 Soviet troops died in the conflict, over a million Afghan civilians are reported to have been killed in the war.
The war had a profound impact on the Soviet Union, and has been cited as one of the key factors in the collapse of the Soviet Union in 1991.