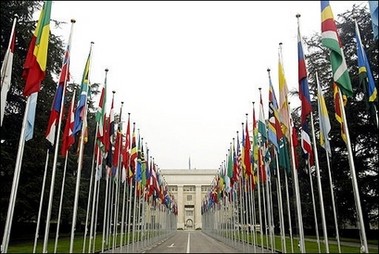 Entrance to WTO headquarters in Geneva
Russian Economic Development and Trade Minister German Gref said Friday that Russia could conclude rocky bilateral talks with the United States on Russia's World Trade Organization (WTO) accession within two weeks, news agency Interfax reported.
"I think that we should reach a final agreement within the next two weeks," Gref was quoted as saying during a meeting with Latvian Economy Minister Aigar Stokensbergs.
"In principle we have agreed with the US on all questions connected with intellectual property rights," which have been a previous stumbling block in talks due to US concerns about film and music piracy and other copyright violations in Russia.
Disagreements with the United States in bilateral talks have held up Russia's decade-long attempt to join the global trade body.
Other key disagreements have included foreign access to Russia's financial services markets, agricultural import tariffs, and Russian concerns about veterinary measures at US beef producers.
Gref said Russian inspectors were currently carrying out an audit of US veterinary facilities.
The minister expressed hope that the sides would "find a formula that suits both Russia and the US" by the end of the month.
Russia is the last major economy not yet a member of the WTO.
Source: AFP