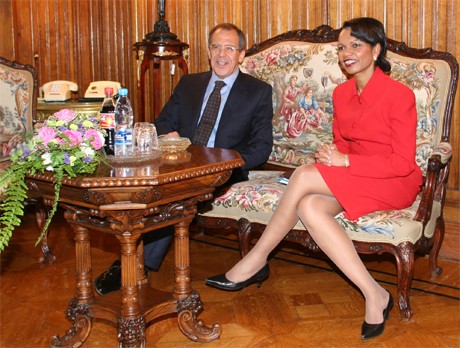 The meeting between Russian Foreign Minister Mr. Sergei Lavrov and US Secretary of State Conndolziza Rice
The Unite State States and Democratic People's Republic of Korea (DPRK) need to show "flexibility" in resolving their differences, Russian Foreign Minister Sergei Lavrov said in an interview published Saturday.
"Both sides need to show flexibility," Lavrov said in an interview with the Kuwaiti news agency KUNA, the transcript of which was published on the Russian foreign ministry's website.
"I am sure that resolving the financial problems in relations between the United States and DPRK would be very important in creating the conditions for a resumption of negotiations," Lavrov said.
The interview was conducted Friday, a day ahead of the arrival of US Secretary of State Condoleezza Rice on a one-day visit to meet top Russian leaders to discuss the DPRK nuclear crisis.
Lavrov's comments were an apparent reference to sweeping financial sanctions imposed by the United States on DPRK last year, aimed at blocking off Pyongyang's access to the international banking system.
"Everyone should demonstrate realism and avoid extreme, uncompromising positions," Lavrov said, referring to international diplomacy after DPRK carried out a nuclear test on October 9.
Lavrov called for the resumption of six-party talks involving China, Japan, Russia, the United States and the two Koreas and said any "linkage" being made between these talks and Washington-Pyongyang issues was "very dangerous."
"This problem arose independently of the six-party talks and it should be decided independently of them," Lavrov said.