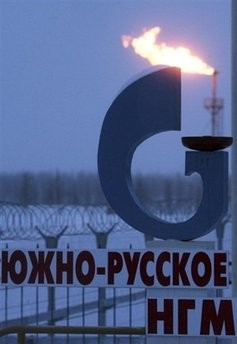 Gas flares behind the Gazprom logo and the sign of the Yuzhno-Russkoye gas field, in far northern Russia just below the arctic circle. (AFP Photo)
Russia does not rule out disruptions of gas supplies to Europe as a result of the dispute between Gazprom and Ukraine over non-payment of debts, the government said in a statement on Monday.
"It is not ruled out that the current position of the Ukrainian side and some of its actions could lead to disruptions in the stability of gas supplies to Europe," First Deputy Prime Minister Viktor Zubkov said in the statement.
Gazprom maintains that Ukraine's state gas company Naftogaz owes it up to 2.4 billion dollars (1.8 billion euros) and Russian officials have warned of steep price rises or delivery cuts if the outstanding debt is not cleared.