Russia would veto any attempt by the UN Security Council to back independence for Serbia's Kosovo province, Foreign Minister Sergei Lavrov said Friday in a newspaper interview.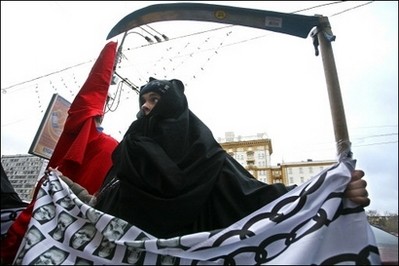 A member of the pro-Kremlin Young Russia movement wears a hangman suit as he holds a scythe during a rally in front of the US embassy 20 December 2007 in Moscow (Photo: AFP)
"If a resolution is proposed that approves a unilateral declaration of independence by Kosovo, then of course there will be a veto," Lavrov told the Vremya Novostei daily. 
It was not the first time Russia has threatened to veto UN backing for Kosovan independence, which the United States and European Union support. 
Russia supports Serbia, which says the majority ethnic-Albanian province should be allowed autonomy, but no more. 
Lavrov's interview came two days after the UN Security Council, where Serbian ally Russia is one of five countries with veto power, failed to break the impasse. 
He defended Russia's isolated position, saying, "They criticize us for putting a veto, that we are refusing to sanctify the unilateral declaration of independence of Kosovo with a UN Security Council resolution." 
"But this is not blocking attempts to resolve the problem. The veto is an integral part of the UN statute. And the UN statute is the cornerstone in modern international law." 
If the European Union circumvents the UN Security Council, "then they will put themselves outside of international law," Lavrov said.