SEOUL, May 27, 2009 (AFP) - South Korean and Russian leaders Wednesday agreed to work together for a strong international response to North Korea's second nuclear test, officials said.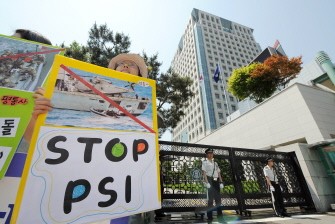 South Korean anti-war activists hold placards during a rally denouncing Seoul's full participation in the Proliferation Security Initiative outside the Foreign Ministry (R) in Seoul on May 27 (AFP photo)
The agreement came in a 20-minute telephone conversation between President Lee Myung-Bak and his Russian counterpart Dmitry Medvedev, Lee's office said.
Medvedev described the test as a "clear" violation" of the UN resolution adopted in 2006 after the North's first test and said it threatened world peace and stability on the Korean peninsula, according to the office.
He promised to support a "new and stronger" UN Security Council resolution against North Korea and said the nuclear test was not justifiable under any circumstances, Lee's office said in a statement.
Russia currently holds the council's rotating presidency.
Lee suggested the two countries should cooperate closely to draw North Korea back into six-party nuclear disarmament talks.
Russia is a participant in the stalled talks, together with the United States, China, Japan and the two Koreas.
North Korea announced Monday it had carried out a successful nuclear test in defiance of international pressure to abandon its atomic program.
The Security Council condemned Pyongyang and decided to prepare a resolution which is likely to include new sanctions.