French President Nicolas Sarkozy offered Thursday to help efforts to swap some 45 hostages for 500 Marxist rebels held in Colombian jails and appealed to the rebel group to free French-Colombian politician Ingrid Betancourt.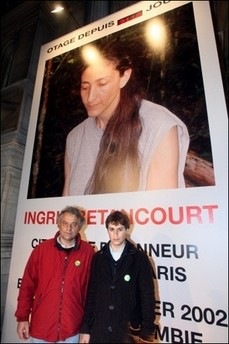 French-Colombian politician Ingrid Betancourt's former husband Fabrice Delloye (L) and his son Lorenzo pose 05 December 2007 at the Paris city hall in front of a giant portrait of Ingrid Betancourt (Photo: AFP)
"I solemnly request the release of Ingrid Betancourt," Sarkozy said in a message to Manuel Marulanda, head of the FARC rebels in Colombia.

"For my part, I pledge to remain personally involved in the search for a humanitarian solution, for the liberation of all the others being held. Moreover, I promise to redouble efforts, if that is desired, to contribute to finding a way out of the Colombian conflict," Sarkozy said in the televised message.

"But at this moment, Mr. Marulanda, a woman in danger of dying must be saved," Sarkozy said. "I have a dream: to see Ingrid among her family this Christmas."

"Mr. Manuel Marulanda, you can make this dream come true, you can save this woman, you can show the world that FARC understands human imperatives," said the French president.

"Mr. Marulanda you bear a heavy responsibility. I urge you to assume it."

France has been very interested in Colombia's hostage crisis since Betancourt was kidnapped while campaigning for the Colombian presidency in 2002.

Earlier this week Colombia said it wanted Sarkozy to become involved in helping resolve the impasse in talks to swap some 45 hostages including Betancourt and three Americans for some 500 FARC prisoners held by Colombian authorities.

The French president last week vowed to redouble his efforts to obtain Betancourt's freedom, after recently-seized videos of her, looking thin, and 15 other hostages were shown by Colombian authorities to prove they were alive.

Sarkozy sent a separate message to hostages, saying "France has not forgotten you. She will never forget you."

Calling their videos and letters profoundly distressing, he said: "They showed the face of suffering. They revealed the soul of despair.

"That is why, I want to address you all and send you a message of the solidarity of France. Solidarity with Colombia, which everyday experiences a tragedy in which no one sees any sense; solidarity with you being held unjustly and cruelly as hostages; solidarity with your families and friends who mark the time lost with calendars of memories."

In a special message to Betancourt, Sarkozy expressed his "admiration for your dignity, your courage in a situation where others weaker would have lost their humanity."

He urged her to not lose hope for release.

"...France refuses to accept the unacceptable. Ingrid, we will never abandon you."

Betancourt's sister Astrid expressed her appreciation to Sarkozy.

"After these days of deep pain, we thank you for your strong gesture, audacious and showing the humanity of Nicolas Sarkozy," she told AFP.

The groups working for Betancourt's release also hailed Sarkozy's speech.

"The declaration is a historical appeal. Nicolas Sarkozy showed he is taking the question to heart. It accepted playing a leading role and that he'll speak with FARC," said the spokesman for the Committees Supporting Ingrid Betancourt, Herve Marro.