MARDAN, Pakistan, Feb 10, 2011 (AFP) - A teenage suicide bomber killed up to 31 Pakistani army recruits at a parade ground on Thursday, an attack the Taliban said was revenge for US drone strikes and local military offensives.
Wearing school uniform, the young teen blew himself up at the parade inside a heavily guarded military compound just outside the town of Mardan, killing the soldiers with shrapnel and explosives, officials said.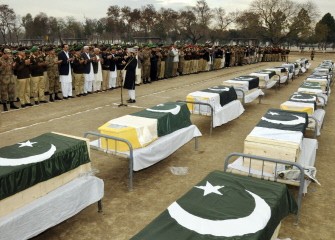 This handout photograph released by the Inter Services Public Relations (ISPR) on February 10, 2011, shows Pakistani army, police and government officials offering prayers during the funeral service. AFP
It was the deadliest suicide bombing in Pakistan since a woman with a bomb strapped under her burqa killed 43 people at a UN food distribution point on Christmas Day in the tribal district of Bajaur.
The Taliban claimed responsibility and threatened "bigger attacks" in coming days to avenge American drone strikes and Pakistani military operations targeting Islamist militants in the northwestern tribal belt.
"It was a suicide attack. The teenager bomber was on foot and was wearing a school uniform," Abdullah Khan, a senior police officer in Mardan, around 30 kilometres (20 miles) from the regional capital Peshawar, told AFP.
"The death toll has now reached 31 recruits. Thirty-six have been injured, 16 of them are critical," Khan told AFP.
"The bomber was 14 or 15 years old. He was not a student at the school inside the regiment. He came from outside but was dressed like the other schoolboys."
After the attack, soldiers in bulletproof jackets and helmets cordoned off the entire area around the Punjab Regiment Centre, deploying jeeps mounted with machine guns and preventing access to the site, an AFP reporter said.
Police had earlier put the death toll at 27.
The UN Secretary-General Ban Ki-Moon condemned the attack, a statement from his office said, adding that he was "appalled by the reported use of a minor to commit this terrorist act".
Separately, militants in Pakistan's lawless North Waziristan tribal district shot three people dead on Thursday, including two tribal policemen, accusing them of spying for the United States, local officials said.
Militants frequently kidnap and kill tribesmen in the troubled region, accusing them of spying for the Pakistani government or for US forces in Afghanistan, where Taliban fighters have been waging a vicious insurgency.
Pakistan suffers near-daily attacks blamed on Taliban and Al-Qaeda-linked militants -- the attacks have killed more than 4,000 people since government troops evicted Islamists from an Islamabad mosque in a deadly July 2007 siege.
Most of the violence is concentrated in the northwest, where Washington has branded the lawless tribal belt snaking along the border with Afghanistan the global headquarters of Al-Qaeda and the most dangerous place on Earth.
A suicide attack at the same army base in Mardan killed at least 42 soldiers in 2006 and another attack nearby killed 13 people in 2008.
Pakistan is under pressure to eliminate militant sanctuaries to help US efforts to win the war against the Taliban in Afghanistan and defeat Al-Qaeda.
But attacks on police and soldiers have spiked since the start of a fresh offensive in the tribal district of Mohmand, where the United Nations has said around 25,000 people have fled the fighting.
Mardan is around 50 kilometres east of Mohmand.
"We proudly claim this suicide attack," Taliban spokesman Azam Tariq told AFP by telephone from an undisclosed location.
"We will continue such attacks on those people who are providing security to the Americans. These attacks are to avenge the drone attacks and military operations in the tribal areas."
Relations between Pakistan and the United States have sunk to a new low since a US official shot dead two men in the eastern city of Lahore last month, and was taken into custody under investigation for double murder.
Raymond Davis said he acted in self-defence, fearing the men were about to rob him. Washington says he has diplomatic immunity and should be released immediately.
Pakistan Interior Minister Rehman Malik has confirmed the American had a diplomatic passport, but the government says the matter stands with the courts, where lawyers argue that diplomatic immunity can be waived in the case of grave crimes.
The military announced separately Thursday it had successfully test fired a cruise missile capable of carrying nuclear and conventional warheads over a range of 600 kilometres (375 miles).
Pakistan and its chief rival India, which have fought three wars, two of them over the disputed territory of Kashmir, have routinely carried out missile tests since both demonstrated nuclear weapons capability in 1998.