A suicide bomb exploded near an army bus in Kabul Wednesday, causing multiple casualties, Afghan officials said, in the second such blast in two days as US Defense Secretary Robert Gates visited the city.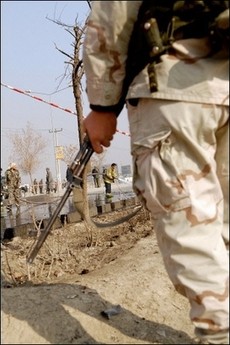 A soldier from the International Security Assistance Force (ISAF) following a suicide blast in Kabul (Photo: AFP)
"There has been a suicide bombing against one of our buses but we have no details," ministry spokesman General Mohammad Zahir Azimi told AFP.

An official from the Kabul ambulance service confirmed the suicide bombing in the south of the city and said his organization was involved in evacuating the casualties.

"We are involved in evacuation and there is a very high number of casualties," he said on condition of anonymity.

The morning rush-hour blast came as Gates was due to wrap up a surprise visit to Afghanistan where he met President Hamid Karzai and military commanders to assess the rising violence in the country.

A suicide attack targeted at the NATO-led International Security Assistance Force (ISAF) on the first full day of his visit Tuesday missed the soldiers but wounded 22 civilians.

The extremist Taliban movement claimed responsibility for the blast.

They reportedly claimed also to have been behind Wednesday's attack but were not immediately in contact with AFP.

The hardliners, in government between 1996 and 2001, have been behind a wave of around 140 suicide bombings in Afghanistan this year.