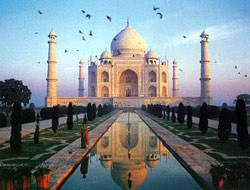 Taj Mahal -the 17th century monument to love.
Heavily-armed troops were deployed Friday at the famous Taj Mahal in northern Indian Friday after police received a letter threatening to blow up the 17th century monument to love.
The sender identified himself as Mohammed Mirza and claimed to be associated with Al-Qaeda.
"We are looking for the man who sent the handwritten letter," said Sanjay Prasad, district magistrate of the town of Agra where the Taj is situated.
The official said the threat appeared to be a hoax but police, who had already announced earlier this month they did not believe current security arrangements were adequate to thwart a terror strike, were taking no chances.
Apart from about 100 extra troops, sand-bag bunkers were put up at entry gates for 24-hour vigil by policemen equipped with automatic weapons at the Mughal-built monument.
Tourists were advised not to carry any liquids, including milk and water.
Police were also making a list of residents living within 500 meters (yards) of the site, Agra's senior superintendent of police, Dipesh Juneja said.
Almost three million domestic and foreign tourists annually visit the Taj Mahal, more than any other tourist site in India.
The magnificent white-marbled, 17th-century Taj Mahal was built by emperor Shah Jahan as a tomb for his beloved queen, Mumtaz Mahal, who died while giving birth to their 14th child.
Some 20,000 workers toiled for more than 20 years to build the tomb in an age of opulence when Muslim rulers mined precious gems to fund construction of grand projects.
Source: AFP