SEOUL, Feb 11, 2011 (AFP) - The South Korean captain of a fishing trawler released this week by Somali pirates has described his months in captivity as "hell", saying he feared constantly for his life.
Kim Dae-Geun was one of 43 crew members -- two Koreans, two Chinese and 39 Kenyans -- freed Wednesday, four months after their boat was hijacked in Kenyan waters.
The 241-ton Keummi 305 is now heading for the Kenyan port of Mombasa under escort by a Finnish warship.
"What made me most anxious was the fear that I could die at any time," Kim, 54, told Yonhap news agency by satellite phone in an interview published Friday.
He said his captors continually threatened the crew with loaded guns "so I would have died if they went off by accident".
Kim said the hijackers stole everything from the crew -- shoes, underwear and even toilet paper -- leaving them just one undershirt and two pairs of underpants.
He said his captors also forced him to take part in four other hijacking attempts, two of which were successful.
"Steering the boat to capture other innocent vessels was really more painful than death because I myself was experiencing hell under the pirates," Kim told Yonhap.
"But I had no choice because they threatened to kill me instantly if I didn't do what I was told."
The reasons for the trawler's release are unclear. But sources have said the pirates may have seen little hope of ransom since the boat's owner had gone bankrupt, and may have found it difficult to feed the crew.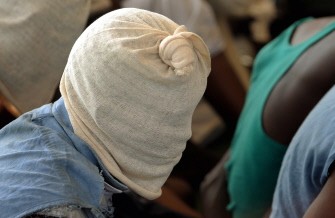 A suspected Somali pirate sits with his face covered during a media interaction on board an Indian Coast guard ship off the coast of Mumbai, India, on February 10, 2011. AFP
South Korean officials said no ransom was paid.
Since 2006 at least three South Korean vessels have been seized and released after ransoms were paid.
Somali pirates hijacked a South Korean chemical tanker in the Arabian Sea on January 15, but the ship and its crew were rescued by South Korean naval commandos in a dramatic raid six days later.
Eight pirates were killed while all 21 crew were rescued, although the captain was shot and seriously injured.
Five captured Somalis were taken to South Korea and are awaiting trial.