A blanket of snow covered western European capitals on Monday, causing major flight delays, disrupting public transport and snarling traffic in London and Paris.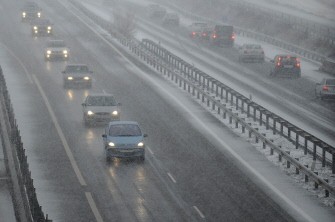 Cars come to a slow under the snow in Almadrones, near Guadalajara, on the A2 highway on February 1, 2009. (AFP Photo)
London was covered in up to 10 centimetres (four inches) of snow, the heaviest fall in 18 years, and all bus services were cancelled, while other transport routes were also hit by severe delays.
Flurries of snow also brought chaos to parts of Paris and Spain.
Weather forecasters the Met Office issued a severe weather warning for London and the southeast of England.
Passengers travelling through London's Heathrow and Stansted airports have been warned by airport operator BAA to expect "significant delays and cancellations", with one of Heathrow's two runways closed.
London's City airport was also temporarily closed, while train and London Underground services have also been badly hit, preventing many commuters from making it in to work.
An army of snow ploughs and gritters were working to clear roads as much of the UK was blanketed in snow.
A spokesman for the Highways Agency said: "If your journey is not essential I would strongly advise you don't make it."
Dozens of schools in southeast England have also been shut.
In France, flights were delayed by at least half an hour in Paris's Orly and Roissy-Charles de Gaulle airports. The snow and icy conditions caused a dozen accidents in the Paris region without causing injuries, officials said.
On Sunday snowfalls snarled traffic in several parts of Spain including the Madrid area where sections of two highways were temporarily closed to vehicles, causing traffic jams, the National Travel Administration Department (DGT) reported.
A storm disrupted ferry travel from the port city of Algeciras to Morocco, authorities said, and parts of central and southwestern Spain reported traffic disruptions before returning to normal in most areas by mid-afternoon.
Both Spain and France were hit by violent storms late last month that killed 25 people and left hundreds of thousands of homes without power.