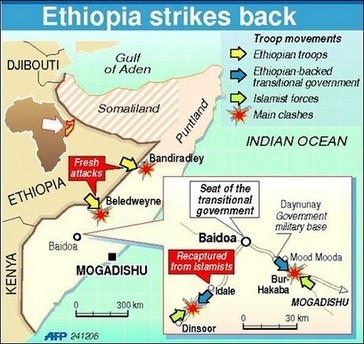 A map of Somalia locating the latest fighting.
Somalia's anti-government Islamist forces retreated Tuesday from several frontline positions after withering attacks by Ethiopian troops, officials and witnesses said as the government called on their rivals to surrender.
A day after Ethiopian warplanes bombarded airports in Islamist-held Mogadishu and another outside the capital in support of the weak government, Islamic fighters fled from two frontlines near Baidoa, the government seat northwest of the capital, and in central Somalia.
"There is a lot of pressure from every frontline and in order to overcome this war, Islamic fighters have emptied several posts including Burhakaba and Dinsoor," an Islamic commander told AFP on condition of anonymity, referring to two former Islamist strongholds northwest of the capital.
"This action is a military tactic, it is a kind of military retreat," he added, as the Islamists vowed to dig in for a long term war against Addis Ababa.
"We are in a new stage of resistance... we have decided to change our tactics," Sheikh Sharif Sheikh Ahmed, the head of the Islamist executive committee, told a press conference in Mogadishu.
"We are ready to start long-lasting war with Ethiopia."
Heavy fighting began on December 20 after the expiry of an ultimatum by the Islamist forces for the departure of Ethiopian troops supporting the weak government in this volatile country, wracked by conflict since the 1991 ouster of dictator Mohamed Siad Barre.
Thousands of civilians have been displaced and seven straight days of artillery duels have compounded the misery of Somalis already affected by recent flooding.
The fighting has also heightened fears of a conflict that could draw in Ethiopia's foe, Eritrea.
The government on Tuesday said its troops, backed by Ethiopian forces, had fought their way into Islamist strongholds. "The local population has welcomed us into these areas and we are glad that now the government is gaining control," Dinari said.