A mortar shell hit a mosque in the Somali capital Mogadishu, killing at least 14 people and raising to 39 the death toll from fighting between Islamist rebels and government forces that flared up on Thursday.
The mosque was hit just as worshippers were filing in for the afternoon prayers, witnesses said.
"The mortar shell struck at the gate of the mosque. I counted about 14 people who died instantly and 10 others were wounded," Hassan Abdifatah, a worshipper at the mosque in southern Mogadishu, told AFP.
"There was blood and body parts everywhere."
Mumin Haji Yusuf, another worshipper, said: "I was inside the mosque when I heard a heavy explosion and shrapnel was flying everywhere killing many people."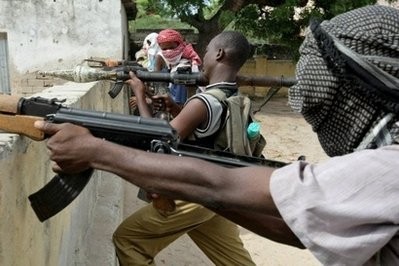 Islamist militants from the Hizb-al-Islamiya take positions at Wardhiglay Police station in Mogadishu
The fighting -- with both sides using heavy machine guns, artillery and anti-aircraft weapons -- erupted on Thursday, but escalated on Saturday as the two sides clashed over key positions in the war-ravaged Mogadishu.
The Islamists said they had taken control of contested areas in southern Mogadishu, but the government dismissed their claim.
"We have taken control of the areas we fought over with the enemy of Allah," Sheikh Ali Mohamed, the rebel Islamist official in charge of Mogadishu, told reporters.
Seized, he said, were Mogadishu stadium, the defence ministry building and a key road -- a claim confirmed by several witnesses.
But at a news conference Information Minister Farhan Mohamoud said the insurgents "did not take any position from the government forces".
"This war is led by foreign fighters who want to take control of Somalia," he said. "They waged a full attack on government positions and this is what they had planned in order to overthrow the government."
Police, hospital officials and witnesses said nearly 200 people have been wounded in the fighting.
Thousands of residents, with belongings on their heads or strapped on their backs, were seen fleeing their homes. Others found themselves trapped amid the fighting.
"It was shocking last night here in my neighbourhood -- a mortar hit a house killing four family members on the spot," said resident Husein Mohamed Waberi.
Three local journalists returning from a news conference given by Sheikh Ali Mohamoud, a Shebab official in charge of Mogadishu, are among those who have been wounded.
Overnight Saturday, pro-government fighters and the hardline Hizb al-Islamiya group clashed over the control of a police station -- drawing in other Islamist groups opposed to President Sharif Sheikh Ahmed's government.
A government security official, his two bodyguards and six other civilians were among the overnight fatalities in southern Mogadishu's Wardhigley district.
Following his election victory in January, some Islamist fighters joined Ahmed's administration to form joint security units with troops of the Somali transitional government which he now heads.
But the government has no complete control of Mogadishu, and it has lost southern and central regions of Somalia to the hardline Shebab Islamist rebels.
Somalia has lacked an effective central government since plunging into civil war with the 1991 ouster of president Mohamed Siad Barre.
Ethiopian troops who deployed in Somalia in 2006 to shore up a government against Islamist movement, pulled out in January.