Aid operations in southeastern Somalia resumed Wednesday after the government lifted a freeze implemented a day earlier for unclear reasons, the UN's food program (WFP) said.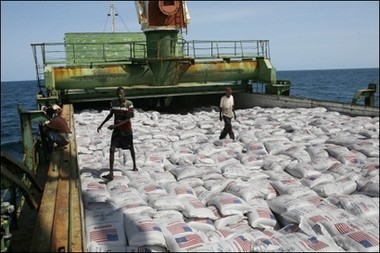 Somali men walk over sacks of sorghum onboard a World Food Program (WFP) boat south of Mogadishu (Photo: AFP)
WFP spokesman Peter Smerdon said aid agencies and NGOs were authorized to resume activities which had been suspended by the authorities in the Lower Shabelle region, one of the worst affected by the country's ongoing humanitarian crisis.

"We have received a letter from the Lower Shabelle region government saying 'despite all that happened, this is to certify that all the humanitarian operations in Lower Shabelle region can be resumed following December 5'," Smerdon told reporters.

The aid freeze had come only a day after a visit to Somalia by the UN's top aid official, John Holmes, who had vowed to push for fewer restrictions on humanitarian activities during his meetings with Somali officials.

The freeze announced on Tuesday had threatened to scupper an operation through which close to 4,000 tons of food aid was being delivered to Somalia by the WFP under French navy escort.

The food is destined for people displaced by the fighting in the capital Mogadishu and living in camps around the capital.

Two WFP-chartered ships docked in the port of Merka, around 100 kilometers (60 miles) south of Mogadishu, on Tuesday. According to an AFP correspondent on the scene, the offloading process was in full swing Wednesday.

Somalia's waters are among the most dangerous in the world, with at least 25 attacks or attempted attacks by pirates against merchant vessels since the start of the year.

French officials had explained that the operation to escort food delivery was aimed at reassuring ship owners and increasing the volume of aid sent to the war-ravaged country.