"President Roh expressed his intention to accept the ruling Uri Party's request" for the resignation of Prime Minister Lee Hae-Chan, said Roh's spokesman Kim Man-Soo.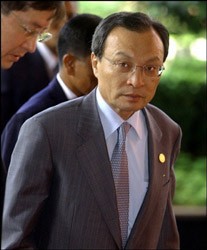 Mr. Lee Hae-Chan, seen here, has offered to resign over a scandal involving a golf game that has sparked allegations of corruption and influence-peddling (AFP Photo)
South Korean Prime Minister Lee Hae-Chan offered to resign Tuesday over a round of golf that has sparked allegations of corruption and influence-peddling.
Lee, 53, said he was prepared to step down at a private meeting with President Roh Moo-Hyun, who returned home Monday from his trip to Africa, Roh's spokesman Kim Man-Soo said.
"Prime Minister Lee said he felt sorry for causing trouble by acting indiscreetly and expressed his intention to resign," he said.
Lee, appointed prime minister in June 2004, played a round of golf on March 1, an important South Korean national holiday, with businessmen in Busan while the country was disrupted by a national rail strike.
The matter initially was considered a minor dereliction of duty. But it has since snowballed into a political scandal with new disclosures about Lee's choice of golfing partners.
Critics say that one of the businessmen had a criminal record while others were hoping to lobby the prime minister for favours.
The opposition Grand National Party (GNP) has asked for a criminal probe into Lee, a former ruling party legislator, claiming he paid nothing for the outing and was also treated to a free dinner.
Golf is still regarded as a luxury sport for the privileged in South Korea. Public servants here were once banned from playing the sport.
Opposition politicians have been seeking to capitalize on the scandal ahead of May 31 mayoral and gubernatorial elections.
The GNP welcomed Lee's offer to resign and said the president should swiftly accept it.
"We welcome Prime Minister Lee's offer to resign. President Roh must accept it immediately," GNP secretary general Huh Tae-Yeol said in a statement.
Other opposition parties issued similar statements which also called on the president to sack the prime minister without any delay.
The ruling Uri Party, to which Lee belongs, is also keen to distance itself from Lee and wants him to step down before more damage is done to its election hopes.
In South Korea, the president serves as the head of state as well as the chief of the cabinet and has the power to replace the prime minister.
A South Korean parents' association group on Tuesday filed a separate complaint with the prosecution against Lee and three others for violating the code of ethics for public servants.
Source: AFP