Spain's government Monday rejected a ceasefire by Basque fighters ETA as totally inadequate and demanded it renounce guns and bombs forever in its battle for an independent homeland.
The government, opposition, and media were united in their deep scepticism over Sunday's video declaration of a ceasefire in the ETA campaign, blamed for the deaths of 829 people over 42 years.
Three ETA members in berets and yellow hoods, sitting at a table against the background of ETA's symbol of a snake curling around an axe, announced the halt to attacks in a video released Sunday.
In the centre of the trio, a woman fighter said ETA had decided some months ago to stop offensive violent actions.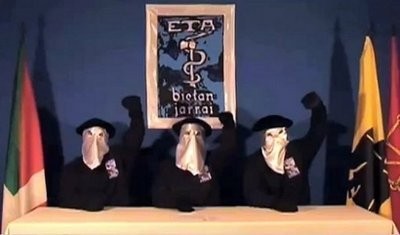 A screen grab taken from the website of pro-independence Basque newspaper Gara shows an image of ETA members declaring a ceasefire in the northern Spanish town of Guernica.
But she did not say if the ceasefire was permanent or temporary, provoking scorn among Spanish politicians who recalled that ETA abandoned a "permanent ceasefire" by bombing the car park of Madrid's airport in December 2006, an attack that killed two people.
"ETA has to renounce violence completely, forever," said Interior Minister Alfredo Perez Rubalcaba.
The ETA statement failed to meet the demands of the Spanish government and even ETA's own outlawed political wing Batasuna of "a definitive and unconditional abandonment of armed struggle," he told Spain's TVE public television.
"We are not going to change a dot or a comma in our anti-terrorist policy. What we want is for ETA to renounce violence. So long as it does not break with violence it will not be admitted into institutions."
Batasuna, declared illegal since 2003 because of its ties with ETA, wants to return to politics in time to take part with a new ally in Basque and northern Navarra municipal elections next year.
It vowed in February only to use non-violent means and in past days has called on ETA to do the same.
Rubalcaba said ETA was forced to call a ceasefire as it has been weakened by the arrests of dozens of members, including several top leaders, in recent years and the dismantlement of a major logistical base in Portugal.
"ETA is stopping because it can't go on any more," he said.
The Spanish government's reaction dovetailed with the judgement of the conservative opposition Popular Party which demanded Sunday nothing less than permanent disarmament and ETA's dissolution.
The ETA announcement "has no value and changes nothing," said PP leader Mariano Rajoy. "The only ETA statement that is important to us is a statement announcing its dissolution."
The Spanish press joined in the condemnation of ETA's failure to unequivocally renounce violence, saying its fighters were also desperate to buy time and reorganise after a police crackdown.
Listed as a terrorist group by the United States and European Union, ETA has not staged an attack on Spanish soil since August 2009.
Since the start of this year Spanish police working with other forces including in France have arrested 68 suspected ETA members.
"If the separatist organisation chose this ambiguous and limited formulation at this moment, it is without a doubt because it needs to gain time, both because of the police pressure it faced as well as because of the political price violence entails," centre-right daily El Mundo wrote.
The newspaper called ETA's declaration a "tactical pseudo-ceasefire" and it recalled the outfit took advantage of its two previous ceasefires to "reorganise and rearm".
The Basque Nationalist Party (PNV), which led the regional government for 30 years before losing power in elections last year, also rejected ETA's declaration.
"The statement from ETA is not what Basque society is waiting for," said PNV president Inigo Urkullu, demanding the group announce a "total end to its activities."
And the employers' association in the Basque region also condemned the truce and demanded ETA cease its "blackmail and extortion" of businessmen in the region, the group's main source of income.
People in the Basque Country itself were also sceptical.
"They'll stop for two weeks, or three months, and then it will begin all over again. They have no credibility," said Maria Carmen, who works in a shop in the city of San Sebastian.
ETA's declaration "will change absolutely nothing," agreed Luis, a customer in the shop. "It will only help them to be able to take part in elections in 2011."