MADRID, June 1, 2011 (AFP) - Spain threatened Wednesday to sue Hamburg for damages after the German city pointed to Spanish cucumbers as the source of a fatal outbreak of E.coli.
Hamburg health authorities admitted Tuesday that tests on two suspect Spanish cucumbers showed they did not carry the bacteria strain that has killed 15 people in Germany and one in Sweden.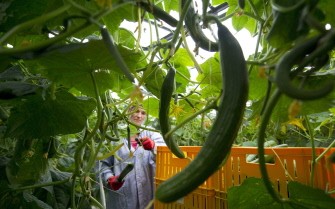 AFP - An employee of the Fontana market gardening company crops cucumbers at a greenhouse in Manschnow, eastern Germany, on June 1, 2011.
"We do not rule out taking action against the authorities who called into question the quality of our products," Deputy Prime Minister Alfredo Perez Rubalcaba told Spanish radio Cadena Ser.
"We may take action against the authorities, in this case Hamburg," the minister said.
Spain's vegetable exporters estimate damages of more than 200 million euros ($290 million) a week as 150,000 tonnes of produce go unsold in a Europe-wide reaction to the crisis.
Madrid has demanded European Union compensation for Spain and other producer countries hit by the crisis.
"The bacteria is not in Spain," Rubalcaba said.
"Once the truth is re-established, what we need to do is repair the damages, which are not small: we have lost a lot of money and a lot of our image," the minister said.
Authorities in the northern German city of Hamburg say they are still searching for the source of the outbreak.
In tests so far, two cucumbers from the southern Spanish region of Andalucia came up positive for enterohamorrhagic E. coli (EHEC) but not the strain responsible for the huge outbreak, they said.
Enterohaemorrhagic E. coli can result in full-blown haemolytic uraemic syndrome (HUS), a disease that causes bloody diarrhoea and serious liver damage and which can result in death.
Of 9.4 million tonnes of Spanish fruit and vegetables exported in 2010, the biggest share, 24 percent, went to Germany, according to the Spanish producers' federation FEPEX.
The Andalucian region says cucumber batches from the two suspect distributors in Almeria and Malaga have been withdrawn pending soil, water and produce tests.
Samples from suspect batches were sent to a laboratory in the northwest province of Galicia for testing. Results were expected some time this week but there is no set date for their release.
The Spanish government says there have been no infections in Spain and it argues that there is no evidence the bacteria come from the cucumbers' origin in Spain rather than in later handling elsewhere.
A 40-year-old man who recently returned from Germany was in intensive care in northern San Sebastian with a possible E.coli infection, the Donostia hospital said this week. Tests so far have been inconclusive.