Sponsors of a new Iran sanctions draft resolution said Wednesday they would consider incorporating some amendments but rejected a South African proposal for a 90-day suspension of UN sanctions.
The 15-member Council held closed-door consultations on the text agreed by six major powers last week and agreed to meet again Thursday to consider an amended draft which the sponsors promised to produce on the basis of changes offered by South Africa, Qatar and Indonesia.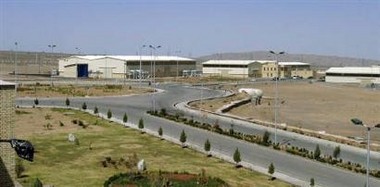 A suspected nuclear base of Iran
France's UN Ambassador Jean-Marc de La Sabliere said after closed-door consultations of the 15-member Council that the draft, which toughened UN sanctions already imposed on Iran in December, had "strong support" among members.
But he added that the co-sponsors were willing to incorporate some of the amendments as they "could give clarity to the text and improve (it)."
The South African proposal for a 90-day suspension of UN sanctions to allow political negotiations with Tehran, however, was rejected out of hand by the sponsors.
De La Sabliere said the proposal was "not consistent with the text, the Security Council approach, which is an incremental approach based on the idea that more pressure on Iran is needed."
He said the co-sponsors would consult with their capitals overnight and produce a new text Thursday ahead of Security Council consultations in the afternoon.
It was unclear when the draft might be put to a vote. Iranian President Mahmoud Ahmadinejad indicated he wanted to address the council on the issue when it votes on the draft.
Washington confirmed on Monday it had granted visas to Ahmadinejad and 38 aides and bodyguards to travel to New York.
"I cannot see any action (vote) this week. We need more time because this is a very sensitive issue," said Qatari Ambassador Nassir Abdulaziz al-Nasser.
"We need at the end of the day to see a united Council. We have to accommodate other members in order to have a balanced and acceptable (text)," he added.
The draft agreed by six major powers -- Britain, China, France, Germany, Russia and the United States -- would ban Tehran from exporting arms, calls for voluntary trade sanctions and expands a list of officials and companies targeted for financial and travel restrictions.
Qatar and Indonesia have both proposed including in the draft a paragraph recalling the goal of a "Middle East free from weapons of mass destruction and all missiles for their delivery."
South Africa, for its part, suggested deleting the weapons ban and many financial sanctions which, if accepted, Western diplomats said, would gut much of the draft.
South African ambassador Dumisani Kumalo said it was "difficult to see" how a vote could take place this week, noting: "We are obligated to get back to our capitals and get instructions about what to do."
South Africa, which dismantled its nuclear weapons program in the early 1990s during its transition from white minority rule to a democratic state, has consistently defended Iran's right to enrich uranium for peaceful purposes.
South Africa, which took up its seat as non-permanent member of the Security Council in January, has acted as a mediator in the nuclear standoff with Iran.
Kumalo insisted that the draft must respect Iran's "right to the peaceful use of nuclear (energy)" and assert the leading role of the International Atomic Energy Agency, the UN nuclear monitoring agency, in determining the nature of the Iranian atomic program.
The West fears Iran aims to produce nuclear weapons with the enriched uranium, but Tehran insists the fuel is for peaceful energy purposes only.