Renewed violence between Tamil rebels and government forces left at least 22 people dead in northern Sri Lanka, the defense ministry said Monday.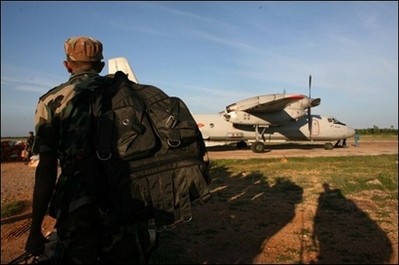 A Sri Lankan soldier waits to board a military plane to Colombo on The Jaffna Peninsula, on November 30 (Photo: AFP)
Among the dead were two civilians killed by unidentified attackers in the Jaffna peninsula where 15 Tamil Tiger rebels also died in clashes with troops on Sunday, the ministry said in a statement.

Soldiers shot dead another five Tiger rebels in Vavuniya district, just south of the mini-state run by the Liberation Tigers of Tamil Eelam (LTTE).

The ministry did not cite casualties among its forces.

The latest toll took the number of rebels the military says it has killed to at least 316 since December 1. The government says only a handful of its troops have died this month.

Independent verification of casualty claims are rarely possible and journalists are not allowed to visit rebel-held areas in the north.

Tens of thousands of people have died on both sides in one of Asia's longest-running civil wars, which erupted in 1972 when the LTTE launched its campaign for a Tamil homeland in the majority Sinhalese nation.

A Norwegian-brokered 2002 truce began to unravel in December 2005.