MANIK FARM - CAMP TWO, Sri Lanka, May 12, 2009 (AFP) - It's called a "welfare village," but the heavily armed guards who surround the tented camp seem more concerned with containment than protection.
Only those needing medical treatment and their immediate families may leave the compound where 60,000 men, women and children displaced by the Sri Lankan conflict share 7,000 white tents pitched on muddy, newly bulldozed land.
No one can have visitors and the facility is open only for those on conducted tours.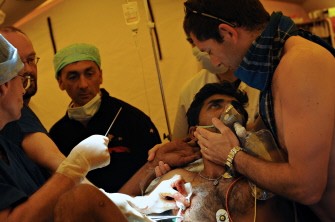 This photo taken on May 6, 2009 shows French surgeons performing surgery in the operation room of the French emergency rescue operation hospital near the northern Sri Lankan town of Cheddikulam (AFP photo)
AFP journalists were briefly given access to the camp last week by top army official G.A. Chandrasiri, but barred from speaking to the civilians inside.
The United Nations hurriedly arranged the tents after authorities were overwhelmed last month by more than 100,000 Tamil civilians pouring out of the war zone where Tamil Tiger rebels are making a final stand against the Sri Lankan army.
The Manik Farm facility, 90 kilometres (56 miles) southwest of the war zone, has been described by the Tigers as a "concentration camp," while the government insists on the "welfare village" label.
The authorities argue that the tight security is there for the safety of the civilians themselves and has promised to resettle them as soon as possible.
Bedding for most is little more than a plastic mat, and the cramped confines of the tents combined with the oppressive heat make for harsh living conditions.
"There is no privacy even to change clothes," local aid worker and camp resident Kala Selvakumar said at a nearby hospital while caring for her mother who suffered a bullet injury in the fighting.
Initially run by the military, the administration of Manik Farm is now handled by the civilian authorities, although soldiers remain in charge of security.
Daniel Arunachalam, 26, a Christian Tamil, said he was grateful to have escaped the crossfire in the conflict zone but that life in the camp was depressing.
"It's not total freedom," Arunachalam told AFP at a nearby medical facility in Vavuniya district.
Arunachalam said it had been a month since he had any news from his brother and other relatives whom he believed were still trapped by the fighting.
Many families were separated during the mass exodus from the war zone.
Sivakala Parthipan, who was shot -- she doesn't know by which side -- as she escaped said she had no idea where her husband was.
Parthipan, 24, was recovering in hospital after having a bullet removed from her chest.
In the capital Colombo, Disaster Management Minister Mahinda Samarasinghe said the government needed more time to rebuild infrastructure and clear land mines before it could allow people to return to their villages.
"I agree facilities in these camps are not five-star hotel standards, but we are doing our best, given the limitations," Samarasinghe said.
He said the resettlement process would probably start within a year, but some of the civilians were less confident.
"I cannot tell you 100 percent that I will get back home one day to retrieve my land," said Sabesan, a young father carrying his injured son.