WASHINGTON, Aug 26, 2011 (AFP) - Former IMF chief Dominique Strauss-Kahn arrived in Washington late Friday for a visit with his onetime colleagues which his successor Christine Lagarde said would be "a sort of reconciliation."
Strauss-Kahn, who was arrested in May on sexual assault charges but saw those charges dropped this week, made no statement to journalists outside his home in an upscale district of Washington, waving them away with his hand.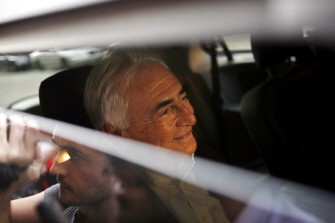 AFP- Former head of the International Monetary Fund (IMF) Dominique Strauss-Kahn and his wife Anne Sinclair (not pictured) leave their home in New York on August, 26, 2011
The French politician, who was seen as a frontrunner for his country's presidency before a New York hotel maid accused him of trying to rape her, was accompanied by his wife Anne Sinclair.
The couple had left New York earlier in the day.
Strauss-Kahn resigned as the International Monetary Fund's managing director after he was arrested and charged.
This week, a New York judge approved a request by prosecutors to drop the charges, after they said they could not pursue the case because the accuser's lies had made it impossible to prove her accusations beyond a reasonable doubt.
Lagarde, who took up the IMF's top job in July, told French television that Strauss-Kahn would meet former colleagues, but did not indicate whether she herself would meet with him during his visit.
"Dominique Strauss-Kahn asked to meet his former colleagues, and any staff members who wish to (see him), in order to simply say good-bye and to have I suppose a sort of reconciliation before leaving the United States," she said.
"All former directors of the IMF can come to the IMF," added the former French finance minister.
IMF spokesman David Hawley said Thursday that a visit by Strauss-Kahn to the Fund was expected "as early as next week."