A Taliban suicide car bomber blew himself up near NATO troops in the Afghan capital Kabul on Tuesday, wounding 22 civilians as US Defense Secretary Robert Gates visited to assess the rising violence.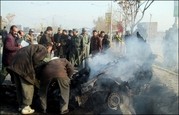 Afghan police at the site of a smoking suicide attacker's vehicle in Kabul
Gates, who arrived late Monday on a surprise trip, was not affected in the explosion on the road to the airport, a Western official said on condition of anonymity, although he drove past about two hours later.

The target of the blast was two vehicles from the NATO-led International Security Assistance Force (ISAF) traveling to the airport but there were no casualties to troops, Sergeant Deitir Baumann told AFP.

An ISAF statement said the bomber was in a car and that 22 Afghans were wounded but there were no NATO casualties.

The interior ministry said in a separate statement that the "bomber wanted to target the foreign forces but did not succeed. He exploded shortly before they passed," it said in a statement.

The windows of a government bus were also shattered by the blast and its sides pierced by shrapnel, an AFP reporter said. Witnesses said a woman and a five men on the bus were wounded.

The car used in the attack was reduced to a wreck of flaming metal, the reporter said.

One of the Taliban's main spokesmen, Zabihullah Mujahed, said the extremist group was responsible for the attack. He said the suicide bomber was a university student in Kabul but there was no way of checking the claim.

There have been about 140 suicide attacks in Afghanistan this year, most carried out by the Taliban who were in government between 1996 and 2001.

Gates was due later Tuesday to meet President Hamid Karzai and Defense Minister Abdul Rahim Wardak.

Earlier he met with commanders from ISAF nations in southern Afghanistan, which sees the worst of the insurgency. He is due to meet these countries, which include Britain, Canada and The Netherlands, in Scotland later this month.

The defense secretary, who was last in Afghanistan in June, also visited an Afghan army training centre in the capital.