HONG KONG, March 7, 2011 (AFP) - The sun is shining on the tourism trade in Asia-Pacific with double-digit growth notched up in 2010, spurred largely by Chinese and Indian middle classes packing their bags for a break abroad.
Strong economies, the proliferation of low-cost airlines and a burgeoning constituency of online shoppers are adding to the region's rosy outlook.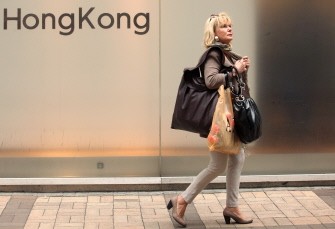 AFP file - File photo taken on December 13, 2010 shows a woman walking past a Hong Kong sign in a street in Hong Kong.
There was an 11 percent rise in arrivals in the region overall last year, according to preliminary data from the Pacific Asia Travel Association (PATA).
And 2011 is also expected to be a strong year.
"Asia will receive international arrivals at close to double that of the world average growth rates," PATA's deputy CEO John Koldowski told AFP.
"It's Asians travelling to Asia, that's the key to all these numbers and the big shift we are seeing globally in the tourism market. It's all happening in Asia now."
South Asia reported the strongest arrivals growth with a gain of 14 percent, highlighting a record year for India which posted 5.6 million foreign inbound visits for the year, a nine percent increase.
Over 70 million people went to Southeast Asia, 12 percent up on 2009, with Vietnam, Singapore and the Philippines all ratcheting up record growth.
Australia and New Zealand and the Pacific islands also had a record year for tourist arrivals.
The total travel market in Asia Pacific is expected to reach $212 billion this year, reflecting a near five percent increase over 2010, according to industry analyst PhoCusWright.
Growth in the region is being boosted partly by a newly minted middle class in the enormous populations of China and India -- around 46 million Chinese travelled abroad last year, as did over four million Indians, PATA say.
And they take their wallets and credit cards with them.
Chinese travellers spent almost $44 billion in 2009 while travelling overseas, according to data from the World Trade Organization -- and that's excluding the cost of getting there.
"For some markets Chinese and Indian tourists are extremely important," said Koldowski.
"Indian travellers to Singapore, for example, travel in an average group size of four against an overall average of 2.9 people and spend on average 5.8 days there against a total average of 4.0 days."
The proliferation of low-cost airlines, particularly in Southeast Asia, is also a shot in the arm for the industry.
Carriers such as Malaysia's AirAsia and Cebu Pacific in the Philippines, among others, continue to expand aggressively.
People from Europe and North America are also heading to Asia and the Pacific in their droves -- arrivals from Europe were up 11 percent to 24 million, PATA say, while arrivals from North America grew by over 10 percent to 13 million.
"Travel has generally rebounded from the global financial crisis," Carl Jones, director of advisory services for American Express Business Travel in the region, told AFP
"For developing nations, which make up a large portion of Asia-Pacific, short vacations to neighbouring countries will continue to be most popular. As nations grow, so does their exposure and disposable income, leading to trips to farther afield.
"Asia-Pacific will continue to be a growth engine for travel -- for both business and leisure."
And many of those will book their trip online, another area of huge potential growth for the travel trade.
US Internet travel booking giant Expedia plans to launch at least five new Expedia-branded sites throughout Asia, having already recently launched a new site in Singapore.
"Already in 2011, we're seeing growth rates in markets like Asia that are outpacing the growth that we saw in 2010," an Expedia spokeswoman told AFP.
"One of Expedia's primary focus areas in 2011 will be on growing its presence in Asia-Pacific and we plan to invest heavily in the region, as we think the opportunities are immense and in some cases untapped."
Booking through mobile devices and social media is also expected to help the tourism industry grow.
According to industry analysts, such as PhoCusWright, the US travel market is approximately 38 per cent online, Europe is 34 per cent online and Asia Pacific is 21 per cent online.
Expedia recently bought mobile travel application firm Mobiata and EveryTrail, a GPS-enabled publishing platform to create outdoor tours and city guides for mobile devices.
"Consumers will use their mobile devices more and more to research and purchase products and services, including travel, at an increased rate," the Expedia spokeswoman told AFP.
"Social media and user-generated content will continue to be an important factor in the travel decision-making process, with more travellers than ever relying on reviews, photos and videos, and recommendations from peers."