Swine flu continued its global march as South Korea confirmed its first case and Hong Kong and China scrambled to track down anybody who had been in contact with an infected Mexican man.
But amid the spread of the virus, health authorities said the world appeared better prepared to fight an epidemic than a few years ago, and vowed that a vaccine was only months away.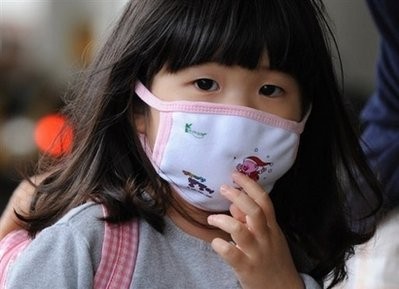 A young girl wears a face mask at Los Angeles International Airport.
Hong Kong was placed on its highest health alert after the 25-year-old Mexican tested positive for the A(H1N1) virus on Friday, the first confirmed case of swine flu in Asia.
Officials in Hong Kong, China and Taiwan were desperately trying to reach anyone who may have come into contact with the man during his journey from Mexico, via Shanghai.
As some pharmacies in Hong Kong sold out of protective masks, more than 300 guests and staff at a hotel where the Mexican stayed were put in isolation for seven days and authorities were trying to locate fellow air passengers.
China said it was to put all passengers on the flight from Mexico to Shanghai under quarantine and that flights from Mexico to the city were being suspended.
China is to send a plane to Mexico to bring back stranded tourists, according to Xinhua news agency.
Meanwhile, South Korean authorities confirmed the first case there, involving a 51-year-old woman who returned from Mexico Sunday and Denmark and France joined the list of countries reporting their first cases.
The latest confirmed cases bring to 16 the total number of countries in which authorities have announced swine flu within their borders.
The World Health Organisation (WHO) puts the total at 13 but France, Costa Rica and South Korea have also reported confirmed cases.
Mexico's government late Friday raised its confirmed toll to 16 dead and 381 infected.
But in a sign that authorities may be containing the spread of the disease, the country, which has been at the epicentre of the outbreak, said the new, multi-strain virus appeared not to be as aggressive as had first been feared.
"Fortunately, the virus is not so aggressive -- it's not a case of avian flu, which had a mortality rate of nearly 70 percent," Health Minister Jose Angel Cordova earlier told reporters.
Hong Kong Chief Executive Donald Tsang was taking no chances, however, in this densely populated, sub-tropical territory, saying he would "raise the alert level from serious to emergency."
The Korea Centers for Disease Control and Prevention said in a statement: "Test results have confirmed the first probable patient, whose case was reported on Monday, was infected with Influenza A (H1N1)."
The woman, reportedly a nun, is expected to be discharged from hospital Monday, health officials said.
Elsewhere in Asia a New Delhi hospital was monitoring two patients suspected of suffering from swine flu after arriving from abroad, a senior Indian government doctor said.
And in Japan, a four-month-old US baby girl was undergoing tests for swine flu, the country's latest suspected case of the virus, officials said.
The WHO has warned that a pandemic is now imminent, raising its alert level to five out of six, but a senior official at the UN agency said a vaccine was in the pipeline.
"We have no doubt that making a successful vaccine is possible in a relatively short period of time," Marie-Paule Kieny, WHO director of the Initiative for Vaccine Research said, adding it may take four to six months.
With 143 infections confirmed in the United States across 20 states, US officials also said the outbreak did not appear to be anywhere near as dangerous as the 1918 flu epidemic, which killed an estimated 50 million people around the globe.
"We do not see the markers for virulence that were seen in the 1918 virus," Nancy Cox, the chief of the Centers for Disease Control and Prevention influenza division, told reporters.
Most cases outside Mexico have involved only mild symptoms of the illness that can be easily treated with existing flu medicines, and some experts have suggested the virus may have weakened as it was carried outside the country.