A Swiss man faces up to 75 years in prison after pleading guilty Monday to charges of insulting Thailand's king, a serious offence in a nation where the monarch is revered.
Oliver Jufer, 57, was arrested on December 5 for defacing several of the king's ubiquitous portraits with spray paint during a drunken spree through the northern city of Chiang Mai, 700 kilometres (400 miles) north of Bangkok.
He was charged with five counts of lese majeste -- the crime of offending the dignity of a sovereign -- as well as lesser charges of destruction of public property.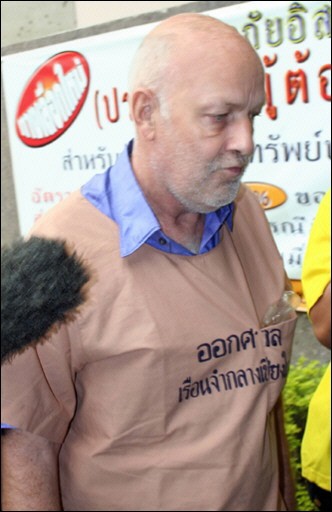 Oliver Rudolf Jufer, 57
If convicted he faces up to 75 years in prison, according to police, 15 for each of the counts of lese majeste.
"He pleaded guilty, and the court set a date for the verdict on March 29," one court official said.
Court officials and police provided few details of the three-hour hearing held behind closed doors, citing sensitivities surrounding the monarchy.
Thailand's King Bhumibol Adulyadej is the world's longest-reigning monarch, and one of the few who is still protected by tough lese majeste charges that prohibit any insult to the royal family.
Thai law allows anyone to file a lese majeste complaint with the police, which makes people reluctant to engage in any sort of public conversation about the king or his family.
Jufer's crime occurred at an especially sensitive period in Thailand, with the nation swept up in royal fever since the king's 60th anniversary on the throne in June last year.
It also followed a military coup in September which was conducted with the king's apparent blessing.
Portraits of the monarch, who turns 80 in December this year, hang in every public buildings and shrines to him dot the sidewalks in major cities.
Millions of Thais still wear yellow shirts to honor the king every Monday, the day of the week when he was born.
Public concern about the king's health has run high since he underwent back surgery in July, a procedure described by doctors as a success but which forced Thais to begin considering the delicate question of who should succeed him.
Despite the strict enforcement of the laws against insulting him, the king has at times appeared to indicate that he was willing to allow greater public discussion and even criticism.
"I can be criticised that sometimes I might be wrong, so that I will know I am wrong. If they criticise me that I am wrong, I'd like to know where it is that I am wrong," he said in a speech for his birthday in 2005.
Nonetheless, the nation's censors routinely block websites that contain foreign news reports or online discussions about the monarchy. Foreign books and movies about the king are also banned here.
Sensitivities about the king have sometimes sparked diplomatic incidents.
Thailand's defence minister in 2001 threatened to fight with neighbouring Myanmar after the miltiary-ruled state's press ran articles critical of King Mongkut, the current king's great-grandfather.
The dispute only ended after Myanmar's prime minister of the time met with the king at his palace.
A French businessman was charged with lese majeste in 1994 for uttering an expletive on an airline after a flight attendant asked him to turn off his reading light to avoid disturbing a nearby princess. The charges were later dropped.
In 2002, a jazz bar in Philadelphia sparked a minor diplomatic incident after running a single advertisement in a local weekly that featured the king -- an avid jazz fan and musician -- with a blond quiff, bleached highlights and sunglasses.
The Thai press picked up on it, and the owner of Saint Jack's restaurant and jazz bar yanked the advertisement after Thailand's government contacted the State Department.