Army tanks on Saturday entered a village bordering Turkey, where 10,000 Syrians have sought refuge, an activist said, as Washington warned Damascus over its "continued brutality" against protesters.
With the deadly revolt now in its fourth month, Britain urged its nationals to leave Syria "now," warning that its embassy in Damascus was unlikely to be able to help if the situation gets worse.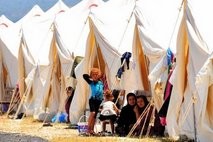 Syrian refugees sit in front of their tents at the Boynuyogun Turkish Red Crescent camp in the Altinozu
As many as 19 people were killed in protests on Friday, the Local Coordination Committee of anti-government activists said, although it added that it had only 12 names so far.
Soldiers in at least six tanks and 15 troop transporters entered the border village of Bdama, widening the crackdown focused in the northwestern province of Idlib, activist Rami Abdel Rahman said.
The head of the London-based Syrian Observatory for Human Rights said "heavy gunfire" broke out in the village, a few kilometres (miles) north of the flashpoint town of Jisr al-Shughur.