DAMASCUS (AFP) – A Syrian town braced for a military assault as international pressure piled on President Bashar al-Assad's regime amid reports his envoy to France had quit in solidarity with protesters.
Dissidents warned of a harsh backlash as troops headed for the northwest town of Jisr al-Shughur after the authorities said 120 policemen had been massacred there by "armed gangs."
The Syrian Revolution 2011, a Facebook group spurring anti-regime protests, appealed to the army to protect civilians against regime agents.
"Thirteen military vehicles are heading to Jisr al-Shughur," where the alleged massacre took place and which has been the focus of military operations since Saturday, an activist in the town told AFP by telephone.
State television said on Monday the policemen were killed by "armed gangs" who were "committing a real massacre," had "mutilated bodies and thrown others into the Assi river," and burnt public buildings.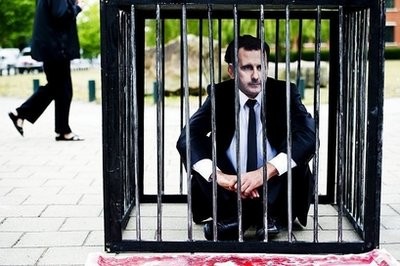 AFP - A protester wearing a mask of Syrian leader Bashar al Assad sits inside a cage outside the International Criminal Court (ICC) in The Hague.
It said a total of 120 police were killed, including 80 at Jisr al-Shughur's security headquarters, without specifying when.
But two activists who spoke by telephone to AFP in Nicosia spoke of a mutiny at a local security headquarters on Monday, where shooting was heard the day before.
A statement on Facebook -- signed "residents of Jisr al-Shughur" -- also said "the deaths among soldiers and police were the consequence of defections in the army" and denied state media claims of armed gangs in their region.
Syria's Al-Watan newspaper said a "security operation" will be launched in Jisr al-Shughur after Interior Minister Mohammed Ibrahim al-Shaar warned that the authorities would hit back.
"The state will act firmly, with force and in line with the law. It will not stay arms folded in the face of armed attacks on the security of the homeland," Shaar said on Monday.
The Muslim Brotherhood in Syria, in a statement issued in London, said that opposition to Assad was peaceful, and accused his regime of looking for a pretext to justify more repression and murders.
"We assure international, Arab and national opinion that the Syrian revolution is both peaceful and countrywide," Brotherhood spokesman Zuheir Salem said.
"Comments by the interior minister about the presence of armed groups terrorising the population of Jisr al-Shughur are a pretext to justify greater repression and murders of innocent citizens," he said.
"The only murderers on Syrian soil are the gangs of the security services."
Jisr al-Shughur was a stronghold of the Muslim Brotherhood in the 1980s and borders Turkey.
Foreign journalists are barred from travelling around Syria, making it difficult to report on the unrest and verify government and witness accounts of the violence.
Assad has responded to the opposition movement by lifting emergency laws, creating a commission on political parties and granting a general amnesty, but security forces continue to pound protest hubs.
"Our revolution is peaceful, we want freedom, dignity and life. We do not endorse any foreign party or organisation," the Syrian Revolution 2011 Facebook group wrote.
"We do not call to battle and refuse to bear arms against our brothers in the Syrian army. We call on them to protect us and defend us against the shootings by agents" of the regime.