DAMASCUS (AFP) – Pro-democracy activists vowed more protests against President Bashar al-Assad for Friday, as his regime came under increased international pressure and faced "massacre" accusations.
Ahead of a convoy of troops and tanks reportedly converging on Jisr al-Shughur in northwest Syria, hundreds of the flashpoint town's residents were fleeing to Turkey, the nearest foreign haven.
The number of Syrians who have fled to Turkey has increased to 2,500, Turkish Foreign Minister Ahmet Davutoglu said on Thursday.
Pouring in through barbed wire or unguarded stretches of the border, the refugees included several dozen people who were hospitalised for treatment of injuries reportedly sustained in security crackdowns.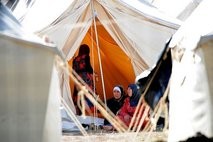 AFP – Syrian refugee women sit in front of their tent at the Turkish Red Crescent camp in the Yayladagi district
Speaking from hospital beds, some of the wounded refugees charged that Iranian forces in black uniforms had been taking an active part in crushing the pro-democracy protests.
"There were police officers in plain clothes, but also Iranian soldiers," said Mustafa, one of dozens of young Syrian men being treated for gunshot wounds in Turkish hospitals.
"We asked them not to shoot but they did not speak Arabic," said the 23-year-old salesman, shot in the leg and arm on May 20 when security forces fired on demonstrators in the northwestern city of Idlib.
"They had beards. Wearing a beard is forbidden in the Syrian army," he said.
Britain, meanwhile, said it stood by allegations that Iran was helping Syria violently crush the protests, after the British envoy in Tehran was summoned to the foreign ministry over the claims.
Syria says 120 police and soldiers were killed this week in Jisr al-Shughur by "armed gangs". Activists spoke of a mutiny by some security forces.
International alarm over the crackdown took the battle into the political arena.
Adding to pressure on Damascus, the UN atomic watchdog voted on Thursday to report Syria to the UN Security Council in New York over allegations it built an undeclared nuclear reactor that was then destroyed by Israeli bombs.
At a closed-door meeting in Vienna of the International Atomic Energy Agency, a majority of countries voted in favour of a resolution proposed by the United States, diplomats at the meeting said.
Russia and China, among the countries which voted against the resolution, said in statements earlier that they saw no reason for such action.
At the Security Council itself, Western powers have begun debating a draft resolution put forward by Britain and France demanding an end to the violence and an arms embargo on Syria.
But Russia on Thursday said it opposed the Security Council adopting any resolution on Syria, risking a major dispute with the West.
"The situation in this country, in our opinion, does not pose a threat to international peace and security," foreign ministry spokesman Alexander Lukashevich said, quoted by Russian state media.
Moscow has long been considered an ally of Damascus as well as a major arms supplier and has warned the West not to side with the opposition.
But at an international meeting in Abu Dhabi on the Libya conflict, French Foreign Minister Alain Juppe on Thursday accused the Syrian government of "massacring" its civilians.
"The attitude of Syria is unacceptable," he said.
"One cannot continue massacring the civilian population under the pretext that this population aspires to have more freedom and democracy," Juppe told AFP on the sideline of an international meeting on Libya in Abu Dhabi.
Syria's foreign ministry, meanwhile, said Damascus was "determined to pursue reforms under the leadership of President Bashar al-Assad. It will authorise no external interference on this subject."
In Geneva, Navi Pillay, the UN High Commissioner for Human Rights, said: "We are receiving an increasing number of alarming reports pointing to the Syrian government's continuing efforts to ruthlessly crush civilian protests."
According to eyewitnesses, the convoy heading to Jisr al-Shughur had left the city of Aleppo along the main Aleppo-Idlib highway where one demonstrator was killed as he, with others, threw stones at the military.
At least 60 transporters carrying tanks and armoured vehicles, plus more than 10 lorries packed with soldiers, were seen on the route.
Human rights groups says more than 1,100 people have been killed throughout the country since the protests erupted in mid-March.
Pillay said activists were now reporting that up to 10,000 people had been detained. Damascus has disputed allegations of violations.
At the heart of the struggle, the Syrian opposition on Thursday urged renewed protests for the following day under the slogan "Friday of the Tribes", using a Facebook page to spread their call.