Pakistan's Taliban claimed Thursday it carried out a suicide attack, which killed 24 people and damaged offices of the country's top spy agency, to avenge an army offensive against militants.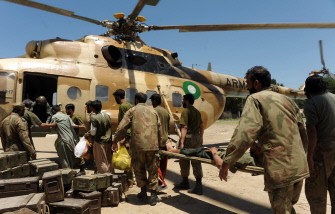 Pakistani troops transport injured soldiers onto an army helicopter in Mingora, the capital of troubled Swat valley, on May 28, 2009. (AFP Photo)
Wednesday's gun, grenade and bomb attack in Lahore was the third deadly assault to rock Pakistan's cultural capital in three months, as Al-Qaeda-linked violence closed in on the political heartland of the nuclear-armed country.
About 300 people were wounded when a van packed with nearly 100 kilograms (220 pounds) of explosives levelled a police building and damaged the provincial headquarters of the Inter-Services Intelligence (ISI).
The bomb struck at the heart of Pakistan's security establishment, which has been pressing an assault against Taliban militants in the northwest for more than a month, on a US-backed mission to "eliminate" extremists.
"We claim responsibility for the Lahore suicide attack. It is revenge for the Swat military operation," Hakimullah Mehsud told AFP from an undisclosed place, saying he was a spokesman for Pakistan Taliban chief Baitullah Mehsud.
Baitullah Mehsud commands Tehreek-e-Taliban (TTP) and is Pakistan's most wanted militant with a five-million-dollar reward posted by the United States.
"If the government -- at the behest of America -- launches more operations against us, more government installations will be targeted," Hakimullah Mehsud, who is a commander and deputy to Baitullah Mehsud, told AFP.
"I appeal to them (citizens of Pakistan) to vacate their cities as there will be more such massive attacks, more dangerous than this and we will target government buildings and places," Mehsud added.
Baitullah Mehsud commands TTP from the lawless tribal area of Waziristan on the Afghan border in the rugged mountains, where militants branded by Washington as the greatest terror threat to the West are holed up.
His spokesman also claimed responsibility for an assault on a police academy near Lahore on March 30, threatening further attacks in Pakistan and the United States in retaliation for US air strikes against Al-Qaeda-linked militants.
Pakistan on Thursday stepped up its own fight against the Taliban, offering rewards for 21 chiefs -- wanted dead or alive -- from Swat, which has been ripped apart by a two-year Taliban uprising to enforce sharia law.
The government listed names and published mugshots, including that of chief Swat Taliban commander Maulana Fazlullah, who carries the top reward of five million rupees (62,250 dollars).
Pakistan's military has been locked in battle with Taliban militants in the northwestern Swat valley -- an offensive which the authorities say has killed about 1,200 extremists and sent 2.4 million people fleeing.
Analysts said that the real cost of the operation might have only just begun, warning that the Taliban would make good on further threats of violence.
"The militants want to weaken the state, demoralise the nation and get publicity by attacking security forces," defence analyst Talat Masood told AFP.
"They selected Punjab because of its importance in the country. Punjab is home to the country's policy makers. The bulk of the army and human resources come from this province," he said.
"The possibility of more attacks cannot be ruled out because the Taliban have suffered badly in Swat," security expert Ikram Sehgal told AFP.
Attack helicopters and fighter jets bombarded militant hideouts in parts of Swat early Thursday as ground troops removed landmines in the district capital Mingora and established checkpoints, a military official told AFP.
In and around Lahore, Pakistan rounded up about a dozen suspects in connection with the bomb attack for questioning, a security official told AFP.
The city has suffered from spectacular attacks linked to Al-Qaeda extremists in recent months.
On March 3, gunmen ambushed the Sri Lankan cricket team bus in Lahore, killing eight Pakistanis and ending hopes of the country hosting international sport in the immediate future.