Tens of thousands of Yemenis have staged a "day of rage" calling for the ouster of President Ali Abdullah Saleh, as a similar number of government loyalists held a counter protest in the capital.
"We are here to bring down a corrupt and tyrannical regime," Najib Ghanem, a lawmaker from the Islamist Al-Islah party that belongs to the Common Forum alliance of opposition parties, told anti-Saleh protesters at Sanaa University.
"The revolt for justice began in Tunisia. It continues today in Egypt, and Yemen tomorrow will be free from injustice," he said of the Tunisian president's fall and protests in Egypt seeking the departure of its president.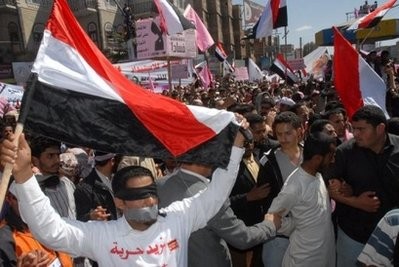 Yemeni anti-government protesters shout slogans during a day of rage protest against President Ali Abdullah Saleh's rule in Sanaa on February 3, 2011.
Addressing the massive crowd, Common Forum speakers all repeated the same message: the peaceful struggle will continue until the fall of an unjust regime.
The demonstration, the biggest since protests against Saleh's rule first erupted in mid-January, came despite the president saying on Wednesday that he would not seek another term and that he had postponed controversial April elections -- two key opposition demands.
Pro-Saleh demonstrators also came out in force, with tens of thousands -- about the same size of crowd as the anti-regime protesters -- gathering in Al-Tahrir Square to pledge their support for him.
"We are with Ali Abdullah Saleh. We are with Yemen," "The opposition wants to destroy Yemen" and "No to destruction, no to sedition," banners declared.
In Washington, the White House said on Thursday US President Barack Obama hailed political reforms in Yemen in a call to Saleh and urged a restrained response to demonstrations.
The call took place on Tuesday before Thursday's "day of rage." In it Obama praised Saleh, a key anti-terror ally who first became the target of political protests in mid-January, for saying that he would not seek another term.
Obama said Saleh now needed "to follow-up his pledge with concrete actions," the White House said in a statement.
The opposition's plans for Thursday were thrown into disarray when armed supporters of Saleh's General People's Congress late on Wednesday took over Al-Tahrir Square, the initial protest venue.
Protest organisers changed the location at the last minute to Sanaa University, about two kilometres (1.2 miles) from the square, but the switch did little to dampen the protesters' enthusiasm.
They swarmed to the university, carrying banners reading "The people demand a change" of regime, and "No to a hereditary regime, no to an extension of mandate," despite Saleh pledging he would seek neither.
Protesters expressed solidarity with demonstrators in Egypt who were on the 10th day of increasingly bloody protests against the regime of President Hosni Mubarak.
Facing increasingly angry demands to quit, Saleh on Wednesday announced he would not seek another term and would freeze plans to change the constitution that would have enabled him to remain president for life.
He also said he opposed hereditary rule, a response to suspicion that he was grooming his eldest son Ahmed Saleh, who commands an elite army unit, to succeed him.
Saleh also announced he would postpone controversial elections due in April and urged the government to take measures against unemployment and ordered that social security coverage be extended.
Mohammed al-Sabri of the Common Forum said on Wednesday that Saleh's call to stop protesting was "unacceptable," but said the group would "discuss the president's announcement."
"We are for total, serious and responsible dialogue, but not the dialogue offered by" Saleh, Sabri told AFP on Thursday.
"The president needs to implement practical measures on the ground.
"The people are fed up with corruption, with wars. We need a change in the situation. The people want freedom and fair elections," Sabri added.
Clashes erupted during previous protests against Saleh, including on January 29 when dozens of activists calling for his ouster battled regime supporters.
Thursday's demonstrations passed off peacefully, AFP correspondents said.
Hundreds of demonstrators tried to stage an anti-government march in Aden, the main port in south Yemen, but police fired tear gas and live ammunition to disperse them, wounding two people, witnesses said.
Thousands of people demonstrated in various southern towns, some responding to a call from the secessionist Southern Movement and others to an appeal from the Common Forum, witnesses said.
Meanwhile, Saleh's website, presidentsaleh.gov.ye, was inaccessible on Thursday following calls by a loose-knit group of online global hackers known as "Anonymous" for attacks on the site.