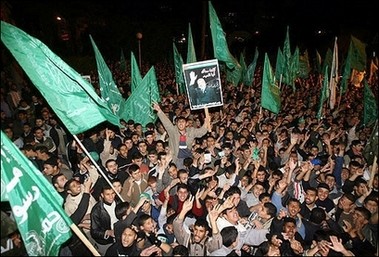 Supporters of the ruling Hamas movement take part in a demonstration in Gaza City (AFP Photo)
Political tension has gripped the Palestinian territories after president Mahmud Abbas called for early elections, dramatically raising the stakes in a long-running power struggle with the ruling Hamas party.
The move set off fears that the standoff between Hamas -- the Islamist movement that swept parliamentary elections at the start of this year -- and the president's own Fatah faction could ignite into full-blown civil war.
A member of the presidential guard was killed and several people injured in what a security official described as an attempt Sunday by Hamas members to storm a presidential guard training camp.
A Palestinian boy was shot dead and at least 18 others wounded late Saturday as thousands of armed loyalists of the two rivals, some of them masked, took to the streets of Gaza after Hamas denounced Abbas's move as tantamount to a coup.
Abbas said elections were the way to resolve the seething tensions with Hamas, which have paralyzed the Palestinian administration and added to the woes of a people suffering from a Western aid freeze.
No date was set, but a senior aide to Abbas said the polls would take place "between now and three months".
British Prime Minister Tony Blair, who touched down Saturday in Cairo as part of a Middle East tour, welcomed Abbas's call and urged the international community to rally behind the president.
The United States said it hoped that elections would help quell violence, while Israel -- which views Hamas as a terrorist organisation that refuses to recognize the Jewish state -- said it supported the moderate president.
Hamas responded angrily, saying that Abbas's move represented "a coup d'etat against the will of the Palestinian people".
Complicating the crisis is the fact that Palestinian basic law does not address the issue of early elections. The current parliament, elected in January, normally would remain in place until the end of 2010.
Abbas's declaration followed a week of rising tensions and violence between his Fatah party and Hamas, and followed the collapse of months of tortuous talks on forming a national unity government.