Kosovo marks its first independence anniversary on Tuesday with calls for calm as rival parliaments for and against the split meet in different parts of the breakaway Serbian territory.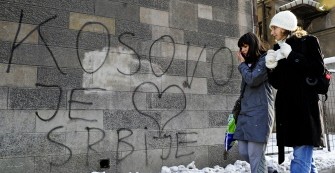 Pedestrians walk past a graffiti reading "Kosovo is the Hearth of Serbia" in Belgrade on February 16, 2009. As Kosovo marks its first anniversary of independence, it is torn between joy at breaking away from Serbia and the harsh realities of building a viable state. (AFP Photo)
"We appeal to citizens for a decent, solemn and of course peaceful celebration," Kosovo Deputy Prime Minister Rame Manaj said ahead of a day of modest festivities marking the Western-backed secession move.
"The Kosovo government and the institutions of Kosovo have undertaken all the necessary measures for security of all celebrations which concerns marking the first anniversary of independence," he said.
Kosovo's ethnic Albanian-dominated parliament in Pristina declared unilateral independence from Serbia on February 17, 2008 in a move seen as the final chapter in the bloody breakup of Yugoslavia.
So far, it has been recognised by 54 nations including the United States, Japan and all but five members of the European Union. Serbia vehemently opposes the move, and is backed by China, India and Russia.
Torn between joy at breaking away from Serbia and the harsh realities of building a viable state, the ethnic Albanian-dominated government in Pristina has organised a low-cost affair.
The festivities include a special morning session of Kosovo's parliament, street parties, and an evening concert for dignitaries followed by a large fireworks display.
In defiance of the celebrations, however, Serbian deputies plan to travel from Belgrade to the northern Kosovo municipality of Zvecan, which is controlled by Serbs, to attend a session of their own rival parliament.
But Manaj stressed his Pristina government had made preparations to ensure security.
"Every eventual provocation which can happen around Kosovo -- I think about the northern part, in particular -- will face reaction of the police of Kosovo," said Manaj.
An estimated 90 percent of Kosovo's two million population is ethnic Albanian.
Serbs, who account for little more than 100,000, mostly live in the north, clinging to a few municipalities close to the Serbian border and the ethnically divided town of Mitrovica, the scene of the worst violence in Kosovo during the past year.