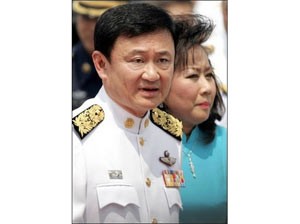 Ousted Thai Prime Minister Thaksin Shinawatra (L) and his wife Pojaman
Investigators have failed to uncover solid evidence of corruption by Thailand's ousted premier Thaksin Shinawatra, the country's coup leader said, undermining the main rationale for the takeover.
However, General Sonthi Boonyaratglin advised Thaksin against returning in the near future and warned the military was on the alert for any risk of a counter-coup by his supporters.
"It will be difficult to implicate him" in major corruption cases, Sonthi told the Nation newspaper.
"I am not sure how far the Office of the Auditor General can investigate suspected corruption cases involving him. They might get nowhere at all," he said.
"We cannot impound the money he made with accountable legal evidence, but can only look for some possible hidden (evidence) with questionable background," the newspaper quoted him as saying.
Sonthi has repeatedly justified the bloodless September 19 coup by saying widespread corruption during Thaksin's five years in office had undermined democracy.
He quickly revived the nation's dormant corruption watchdogs and set up his own high-powered team of investigators to look into graft allegations against Thaksin.
"Under the previous government, widespread corruption was evident. The administration was plagued by irregularities," he told the paper.
But Sonthi acknowledged the military could lose the public support it has generally enjoyed since the coup if nothing emerged to back up specific corruption claims.
"We have tried to abide by the law and take all parties' concerns into account," he was quoted as saying.
"For example, the international community is watching to see whether human rights and civil liberties are being violated" during the corruption probes, he said.
"I know how the people feel. I guess I feel the same way when I watch soccer. I am always frustrated when waiting for my team to score and feel like getting on the field and playing myself," he said.
Political science lecturer Sombat Chantawong said he did not know why Sonthi made the comments before the anti-graft bodies had completed their investigations.
"The coup group needs to prove that their reasons are true, otherwise they will be in trouble," he told AFP. "Otherwise the coup leaders only ousted the government to take power."
Sonthi also told the Nation that the military was on guard for a possible counter-coup movement, and warned Thaksin not to try to return home yet.
"If he's really concerned about the country, he shouldn't try to come back at present," Sonthi was quoted as saying.
"For people who used to have so much and lose it so swiftly, it's hard to come to terms with that, and they may do everything necessary to get it all back," he said.
Thaksin was in New York when the coup occurred, and has stayed in exile in London since.
His wife, Pojaman, had gone to meet him, but has since returned to Thailand.
She spent 15 minutes early Thursday meeting former prime minister Prem Tinsulanonda, a top adviser to Thailand's revered king, in an effort to secure permission for Thaksin's return. Neither Pojaman or Prem commented on the meeting.
Prem is believed to have played a key role in orchestrating the coup, and many of the leaders imposed by the military in government and in parliament have close ties to him.
In his interview with the Nation, Sonthi denied he had informed Prem before staging the coup, but cited the Thaksin government's perceived lack of respect for the monarchy as one of his reasons for the takeover.
"The military cannot tolerate any leaders who lack or have limited loyalty to the king," he told the paper.
Thailand's King Bhumibol Adulyadej, who at 78 has spent six decades on the throne, is revered by his people and any perceived insult to him is a serious crime here.
But Sonthi said that criminal charges that Thaksin had insulted the king were also failing to stick.
"He has cleared some of the cases (before the coup), and our officials are looking into the other remaining cases," he said.