Thai court on Wednesday acquitted the ex-wife of ousted premier Thaksin Shinawatra in an appeal against her three-year prison sentence for tax evasion.
Pojaman Shinawatra "did not have a duty to pay tax" when she sold shares in a then family-owned telecoms business to her brother, a judge at Bangkok's Criminal Court said.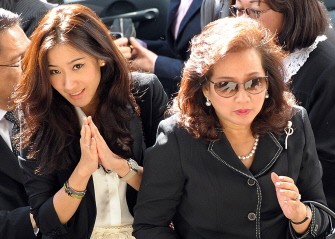 Ousted former premier Thaksin Shinawatra's ex-wife Pojaman (R), flanked by her daughter Pinthongta (L), arrives for an Appeals Court hearing at Bangkok's Criminal Court on August 24, 2011.
Thaksin, whose sister Yingluck Shinawatra is Thailand's new prime minister after a resounding election victory in July, was deposed in a 2006 military coup and lives abroad to avoid an unrelated conviction for corruption.
Several members of the extended family faced judicial inquiries into their finances following Thaksin's ouster.
On Wednesday the appeal court acquitted all three defendants of filing false statements.
But the court upheld a tax evasion conviction and two-year sentence for Bannapot Damapong, Pojaman's brother, suspended for one year, and added a 100,000 baht fine ($3,300).
Pojaman, her brother and her secretary Kanjanapa Hongheun were convicted in July 2008 of colluding to evade tax worth 546 million baht -- about $18 million at current exchange rates -- in a 1997 transfer of shares in Shinawatra Computer and Communication, which later became Shin Corp.
Thaksin fled Thailand days after his wife's conviction -- and ahead of his own corruption trial -- and has never returned, arguing that charges against him are politically motivated.
He was later sentenced in absentia to two years in prison over a land deal involving his ex-wife.
Two governments allied to the ousted leader were removed from power by the judiciary in 2008, amid an increasingly fractured political landscape in Thailand.
In February last year Thailand's Supreme Court confiscated around $1.4 billion -- or around half of Thaksin's fortune -- thought to be the proceeds of the sale of Shin Corp to Singapore-based Temasek Holdings in January 2006.
The ruling was the precursor to Thailand's worst political violence in decades as pro-Thaksin "Red Shirts" mounted a two-month street rally in Bangkok that ended with over 90 people dead in clashes between the army and protesters.
Pojaman and Thaksin divorced in November 2008, ending 32 years of marriage, and she now sometimes uses her mother's maiden name "Na Pomphet".