BANGKOK, March 30, 2011 (AFP) - Flooding across southern Thailand has killed 11 people and stranded thousands on storm-swept holiday islands as the navy's only aircraft carrier joins a rescue operation, officials said Wednesday.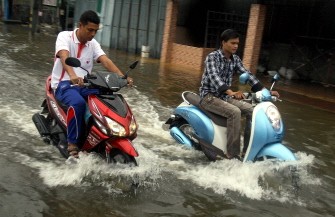 Thai men ride their motorbikes through flood waters following heavy rains in Thailand's southern city of Narathiwat on March 29, 2011. AFP
Victims were either swept away by the rising waters, or buried in mudslides as the unseasonably wet weather deluged the homes and businesses of around a million people in what should be one of the hottest months of the year.
Residents were left without electricity in many areas as the waters rose, while road, rail and air links to the southern region remain closed.
Thousands were stranded on the tourist islands of Koh Samui and Koh Tao in the Gulf of Thailand as ferries were cancelled in the rough weather.
Deputy prime minister Suthep Thaugsuban said the government had sent its only aircraft carrier to rescue around 1,000 people stuck on Koh Tao island.
"There are roughly one million people affected in many provinces. At first we though the flood would last a day or two, but now it has already been one week," he told reporters.
Bangkok Airways said there were 2,000 people, mostly tourists, stranded on Samui island either at the airport or in hotels after the airline cancelled flights for two days in a row.
Some 800 passengers are also waiting in Bangkok to travel to the island.
Bad weather and a power blackout at Samui airport grounded over 50 flights on Monday and Tuesday.
The flooding, which began in southern Thailand a week ago, has killed seven people in Nakhon Si Thammarat province, three along the coast in Surat Thani and one in neighbouring Phatthalung.
In all, 80 districts of eight provinces have been declared disaster areas by Thailand's disaster prevention and mitigation department.
Devastating flooding across Thailand late last year left more than 220 people dead, damaging the homes or livelihoods of an estimated 8.6 million people in 51 of the kingdom's 76 provinces.