The death toll from Thailand's worst floods in decades surged above 400 on Wednesday as public anger simmered over the authorities' handling of the crisis.
The government said the disaster has now killed 427 people -- an increase of 42 from the figure reported a day earlier. So far no deaths in Bangkok have been reported in the official toll.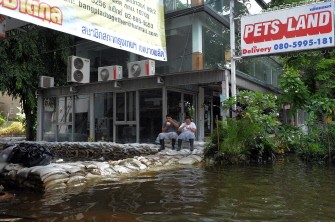 Thai people sit on sand bags in front of their homes surrounded by floodwaters in Bangkok on November 2, 2011.
While the centre of the capital remains dry, areas in its outskirts and to the north have been submerged in water waist-deep or worse in places.
Residents in affected areas have complained that their homes are being sacrificed to save central parts of the sprawling metropolis, home to 12 million people, leading to protests and the destruction of some dykes.
The floods, triggered by unusually heavy monsoon rains that began three months ago, have damaged the homes and livelihoods of millions across the kingdom.
Prime Minister Yingluck Shinawatra and Bangkok officials have clashed over how much water should be let through certain sluice gates to the north of the city centre to ease the pressure on inundated communities.
Yingluck has refused calls from the opposition to declare a state of emergency that would give greater powers to the military to deal with unrest.
Army chief Prayut Chan-o-Cha also said that there was no need to invoke the emergency rule to deal with dissatisfied flood victims.
"To use the special law will cause confrontation between people and soldiers," he told reporters.
"Everything will be resolved by December. The current problem is how to drain water quickly as dykes and barriers have been destroyed in many places. If people don't allow water to pass then there's a problem and the floods will be prolonged and people will suffer more," he said.
Central Bangkok has largely been spared from major inundation after barriers along Bangkok's swollen Chao Phraya River prevented a major overflow during a spring high tide over the weekend.