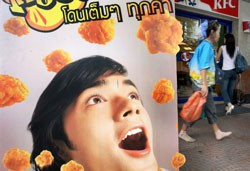 An advertisement for fried chicken in downtown Bangkok. Many people like fried chicken more than boiled chicken because of fears of bird flu (AFP Photo)
Thailand's government declared 29 central and northeastern provinces, including Bangkok, as bird flu disaster zones as part of measures to curb the epidemic, government spokesman Surapong Suebwonglee said.
The Thai government also approved the creation of chicken " death squads" responsible for terminating infected birds as well as all poultry within a one-kilometre radius of any future bird flu outbreak site.
The declaration would make it easier for the government to provide compensation to farmers whose birds must be killed, Thailand's newspaper The Nation quoted Surapong as saying.
Agriculture Minister Sudarat Keyuraphan said the government will perform tests on chickens within five kilometres of an outbreak site to check the spread of bird flu. Four new mobile labs will be set up across the northern and central provinces to conduct the tests.
The government also issued strict measures for another 30 provinces, requiring vehicles and equipment to be disinfected before traveling between farms, said the newspaper.

Source: AFP