BANGKOK, Sept 8, 2010 (AFP) - A Thai Airways plane was cleared Wednesday to leave Los Angeles airport and return to Bangkok following a bomb hoax on a flight carrying nearly 200 people, the airline said.
The threat sparked a security alert in the US, which is particularly tense in the days before the anniversary of the 9/11 terrorist attacks.
The aircraft "that landed safely following a bomb hoax at Los Angeles International Airport has been released by US federal authorities for its return flight to Bangkok", Thai Airways said in a statement.
It said the departure of flight TG795 would be delayed by two hours following the US investigation, which included a bomb squad search of the aircraft in a remote part of the airport.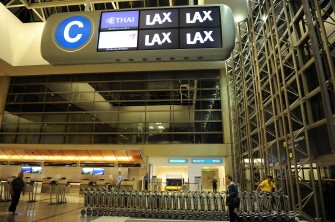 A worker pushes luggage carts in the international terminal at Los Angeles International Airport after the safe arrival of Thai Airways Flight 794 on September 7, 2010. All passengers on the flight were released following questioning after a bomb threat was found written on a bathroom wall on the Bangkok to Los Angeles flight. AFP
The Federal Bureau of Investigation (FBI) had earlier said no credible threat was found on board the plane after a written threat saying there was a bomb on board was found in a lavatory.
Eighteen fire trucks and fire engines were placed on standby at the airport before the plane landed, according to the Los Angeles Fire Department.
The FBI said passengers and crew were interviewed after the flight touched down on Tuesday evening.
Thai Airways said 189 people -- 171 passengers and 18 crew -- were aboard the affected flight, clarifying a previous statement.
The incident comes amid heightened security ahead of the ninth anniversary on Saturday of the September 11, 2001 attacks on the World Trade Center in New York and the Pentagon on Washington.