BANGKOK, March 22, 2011 (AFP) - Thailand's prime minister said there was no guarantee that he would be in office in a year but insisted upcoming elections offered a choice between his policies and a "cycle of conflict and violence".
Abhisit Vejjajiva said polls in June or July would be a chance for the "silent majority to be heard" over the clamour of demonstrators in Bangkok, which is again the site of regular protests after deadly rallies last year.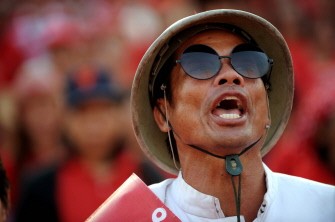 A Thai anti-government Red Shirt protester sings the national anthem during a rally in downtown Bangkok on March 19, 2011. AFP
Fresh from surviving a no-confidence motion in parliament last week, the Thai premier told reporters late Monday that he hoped his tenure would be remembered for providing "greater security and welfare for the Thai people".
"Maybe you'll be wondering if I'll be here next year. I'm wondering, too," Abhisit told the Foreign Correspondents' Club of Thailand in an annual address.
He said the question for voters would be: "Do you want to move forward with the policies that we have initiated and will build on, or do they want to stay in this cycle of conflict and violence?"
"Do they want a government that will continue to put their interests first, or do they want people who are still tied to one person's interests and wouldn't allow the country and the Thai people to move beyond (it)."
He appeared to be referring to fugitive former premier Thaksin Shinawatra, who continues to haunt Thai politics despite being ousted in a military coup in 2006 and living overseas to avoid a jail sentence for corruption.
The ex-leader is still considered the de facto leader behind the opposition Puea Thai party and he commands the support of many of the mainly rural, working class Reds. He called on them to vote Puea Thai in the election.
Thailand remains split following rallies by anti-government "Red Shirts" in April and May 2010 in which more than 90 people died and 1,900 were injured in clashes between troops and protesters.
Abhisit's government denied opposition accusations of corruption and human rights violations in the recent censure debate.
The Reds view Abhisit's rule as undemocratic because he came to power in a 2008 parliamentary vote with the backing of the army after a court ruling threw out the previous administration.
Thaksin, a former telecoms tycoon, is hailed by the Reds for his policies for the poor while in power, but is regarded by the Thai ruling elite as authoritarian, corrupt and a threat to the revered monarchy.
The military also looms in the background in Thailand, which has seen 18 actual or attempted coups since 1932, when the country became a constitutional monarchy.
British-born, Oxford-educated Abhisit has faced questions over his nationality by opponents trying to bring him before the International Criminal Court over his government's handling of the Red Shirt crisis last year.
He said it was "no secret" he was a British citizen and denied he had ever had "divided loyalties".
Although Thailand has not ratified the Rome Statute that created the ICC, the Reds have argued that Abhisit could be held to account by it if he is a citizen of Britain, which is a signatory of the pact.