BANGKOK, March 19, 2011 (AFP) - Thai Prime Minister Abhisit Vejjajiva survived a no-confidence motion on Saturday brought by opposition lawmakers seeking to inflict damage ahead of upcoming elections.
Abhisit won the vote following a four-day censure debate, in which the opposition Puea Thai party accused his administration of corruption, policy failures and human rights violations -- charges the government denies.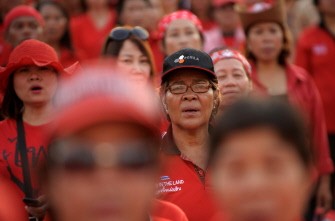 Thai anti-government 'Red Shirt' protesters sing the national anthem during a rally in downtown Bangkok on March 19, 2011. AFP
The victory -- the third such censure motion that Abhisit has faced down since 2009 -- means the current ruling coalition can remain in office in the lead up to a fierce poll battle expected in late June or early July.
About 20,000 anti-government "Red Shirts" gathered peacefully in Bangkok on Saturday, police said, for the latest in a series of rallies -- an indication of the deep divisions in Thai society as the general election approaches.
Abhisit, who won 249 votes to 184 against him with 11 abstentions, was one of ten ministers named in the censure motion, all of whom narrowly survived separate votes by garnering the necessary minimum of 238 ballots.
"The parliament has voted to give confidence to the Prime Minister and another nine ministers to stay in power," house speaker Chai Chidchob said.
The opposition lawmakers were seen as having little chance of winning the no-confidence vote because they lack a majority in the lower house, dominated by a six-party coalition led by Abhisit's establishment Democratic Party.
"This is not about good governance or accountability, this is about how to survive a vote that will have a significant impact on the upcoming election," said author and former Thai diplomat Pavin Chachavalpongpun.
During the debate, the opposition accused Abhisit of abusing his power during deadly military operations in April and May 2010 aimed at clearing Red Shirt protesters from the streets of the capital.
More than 90 people died in clashes between the army and Red Shirt demonstrators last year -- the kingdom's worst political violence in decades.
Puea Thai also blamed Abhisit for allowing a huge fire at Bangkok's CentralWorld mall -- one of dozens of buildings set ablaze after the army crackdown in arson attacks that the government blames on militant protesters.
The mainly rural, working class Reds are broadly loyal to fugitive former premier Thaksin Shinawatra, who was ousted in a military coup in 2006 and lives overseas to avoid a jail sentence for corruption imposed in his absence.
They view Abhisit's rule as undemocratic -- which the government denies -- because he came to power in a 2008 parliamentary vote with the backing of the military after a court ruling threw out the previous administration.
A week ago, about 35,000 Red Shirt supporters gathered in a major show of strength in Bangkok and were addressed by their hero Thaksin via video link.
He called on them to vote in the election for the opposition Puea Thai party, in which some Red Shirt leaders aim to stand as parliamentary candidates.
Thaksin, a former billionaire telecoms tycoon, is hailed by the Reds for his policies for the poor while in power, but is regarded by the Thai ruling elite as authoritarian, corrupt and a threat to the revered monarchy.
He faces terrorism charges in Thailand, accused of bankrolling last year's protests and instigating unrest.