Thousands of Thai anti-government protesters Monday closed off roads in front of parliament in Bangkok, where new prime minister Abhisit Vejjajiva was expected to deliver his maiden policy speech.
Police said 9,000 red-shirted demonstrators loyal to former premier Thaksin Shinawatra, who was toppled in a 2006 coup, moved to parliament overnight after gathering on Sunday night at a city centre parade ground.
Protesters surrounded the entrances to parliament early Monday and vowed to stay there until the resignation of Abhisit, who won a parliamentary vote two weeks ago after a court dissolved the previous, pro-Thaksin government.
Deputy Prime Minister Suthep Thaugsuban said the government had no immediate plans to change the venue of the speech but would make a final decision on the situation soon.
"If the meeting cannot start in the morning, we'll move to this evening or tomorrow," he told Thai television, adding that it was possible but unlikely it could be postponed into the new year.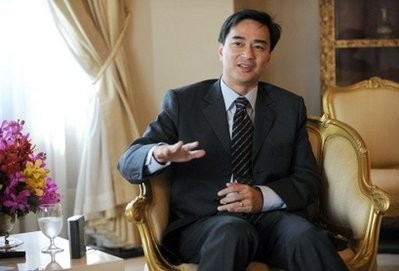 Thailand's new Prime Minister, Abhisit Vejjajiva, is pictured during an interview with AFP, at Government House in Bangkok on December 26
Nattawut Saikuar, a core organiser of the pro-Thaksin protests, said the demonstrators would not stop the prime minister or his cabinet from walking to parliament for the speech.
"We want to make it clear that we reject the prime minister's route to power," he said.
"We will open one lane for the prime minister and cabinet members to walk into parliament. We will do nothing when they walk, apart from asking them to return our sovereign power," Nattawut added.
The protests have brought Thai politics full circle after a year of upheaval, with Thaksin loyalists using the same tactics that helped rival demonstrators to bring down a government led by the tycoon's allies.
Oxford-educated Abhisit, the head of the Democrat Party, won the parliamentary vote to become prime minister less than two weeks after a court dissolved the former ruling People Power Party that was loyal to Thaksin.
That verdict followed months of protests by the royalist People's Alliance for Democracy (PAD), a yellow-clad anti-Thaksin group that blockaded Bangkok's airports earlier this month, causing huge damage to the economy.
The PAD accused the previous government of being a corrupt proxy for Thaksin.
Thaksin is living in self-imposed exile to avoid a jail sentence for corruption in Thailand but has made a series of telephone speeches to protests in recent weeks.
Abhisit told AFP last week he had ordered police to avoid a repeat of clashes at parliament on October 7, when the PAD tried to stop then-premier Somchai Wongsawat, Thaksin's brother-in-law, delivering his policy speech.
The violence left two people dead and 500 wounded.
The protests come as Abhisit -- Thailand's third premier in four months -- faces a raft of problems, ranging from Thailand's stuttering economy to the enormous divide between pro- and anti-Thaksin forces.
He has vowed a "grand plan of reconciliation" and a 300 billion baht (8.6 billion dollar) economic stimulus package, but caused controversy by appointing a vocal supporter of the PAD's airport blockade as his foreign minister.
Twice-elected Thaksin is still loathed by the Bangkok-based elite in the military, palace and bureaucracy, who backed the PAD and see Thaksin as corrupt, authoritarian and a threat to their traditional power base.
But his populist policies won him huge support among the urban and rural poor, especially in his native north and northeast, from where many of Sunday's protesters hailed.